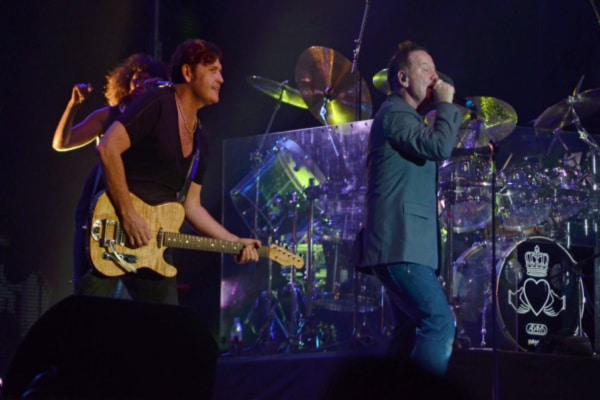 Simple Minds have shared a brand new single, from their latest album which will arrive later this year.
The new single is called 'Vision Thing', and will feature on the new album 'Direction Of The Heart'.
'Vision Thing', is the first of eight tracks on the album.
Check out the tracklist for Simple Minds' latest album below.
'Vision Thing'
'First You Jump'
'Human Traffic' (featuring Russell Mael of Sparks)
'Who Killed Truth?'
'Solstice Kiss'
'Act Of Love'
'Natural'
'Planet Zero'
'The Walls Came Down (written and originally recorded by The Call)'
'Human Traffic' features a guest appearance from Sparks frontman Russell Mael. The album also features a cover of the Call's 1983 track 'The Walls Come Down'.
"a feel-good 'Electro-rock' record"
The music has been written by Simple Minds guitarist Charlie Burchill, with lyrics penned by frontman Jim Kerr. These tracks were also recorded at Chameleon Studios in Hamburg.
The album will be a follow up to Simple Minds' 2018 record 'Walk Between Worlds', which will arrive on October 21. You can pre order the album here.
"How to make a feel-good 'Electro-rock' record, during the very worst of times? Direction Of The Heart is the result of that challenge", Jim Kerr said. "Who would have thought we'd have so much fun creating it?".
As part of their 40th anniversary tour, Simple Minds will be taking to the stage at Blenheim Palace in the UK on June 18.
After returning to Europe, Simple Minds will hit Edinburgh for two gigs at the Princess Street Gardens in August. You can get your hands on remaining tickets for these shows here.
Speaking of Simple Minds' albums, the band's classic 1985 record 'Once Upon A Time' was under the spotlight of Nova's 'Classic Album At Midnight' back in January.
The album also includes Simple Minds' classic track 'Don't You Forget About Me'. Check that out below.