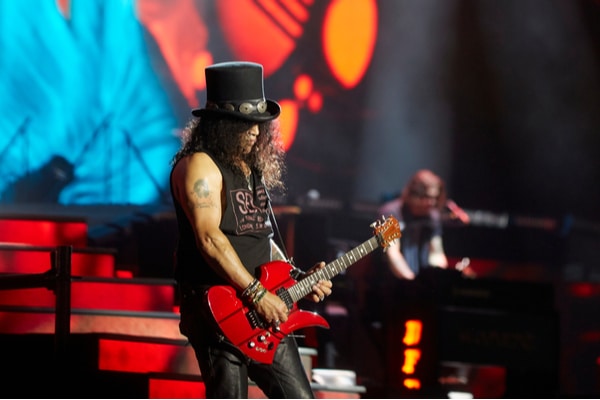 Slash has announced that new Guns N'Roses music is on the way very soon.
In fact, some fresh new music could arrive before the band's next set of live shows. They released tracks "Absurd" and "Hard Skool" last year.
Speaking to Consequence of Sound, Slash has added that those tracks are not the only material to be released by the band in the near future.
"There is new material coming — everybody's always asking", he said. "I would imagine that there will be one or two songs that come out around the time that we hit the road in June".
"It's been great"
Slash also spoke about what it has been like touring with the band alongside frontman Axl Rose again.
"It's been great", he said. "We got back together and it was really sort of like one of those huge question marks, and it was only to do the Coachella festivals, really. And it just snowballed into this tour that's really been sort of going ever since then".
"But we've had a blast doing it, and I'm really happy that finally after all those years of negativity and whatnot, that we got past all that, and managed to get together and go out and play".
PODCAST! Guns'n'Roses Duff McKagan Talks Stuff with Marty Miller..
Slash has been quite busy, having released the album 4 with Myles Kennedy & The Conspirators. This album includes the tracks "Call Off The Dogs", "The River Is Rising" and "Fill My World".
On this, he commented, "This was the first time that we actually did all the guitars, bass and drums live at the same time and kept all those tracks, and we also did the vocals live as well".
"So the record just sounds like the band playing the songs that we came in with, but it's us playing in the moment, and that's what we were going for". More on this here.