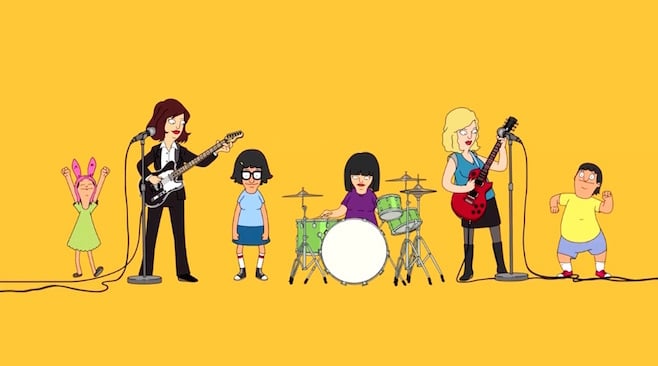 American rock band Sleater Kinney have joined forces with the animated sitcom Bob's Burgers to create their new music video.
The animation video is for the band's new single titled 'A New Wave' taken off their new album No Cities To Love.
Sleater Kinney released No Cities To Love last month, it was their first album since 2005's The Woods.
The rock trio consists of singer Corin Tucker, guitarist Carrie Brownstein and drummer Janet Weiss.
Speaking to NPR about the band's return and their new album (via NME) Brownstein said: "I spent a lot of time writing choruses for this record. Melody is was what I was most picky about. I really drove Corin (Tucker) crazy sometimes. We would have choruses that we would work on for hours, days, maybe on and off over a matter of weeks. And we'd think we had solved it, but then I would listen to it later on and decide to discard it, that it wasn't good enough. I did that with my guitar parts too.
"In the end we were all more scrutinising with our own parts than we ever have been. I think we didn't want to take any second of the song for granted, everything had to have an intention and earn its place."
Watch the video for 'A New Wave' below.
Sleater Kinney are playing Dublin's Vicar Street on March 26th.
No Cities To Love track list:
Price Tag
Fangless
Surface Envy
No Cities To Love
A New Wave
No Anthems
Gimme Love
Bury Our Friends
Hey Darling
Fade