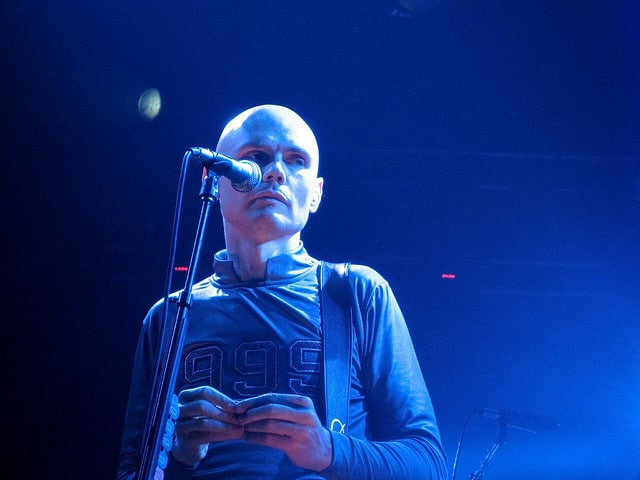 American rockers Smashing Pumpkins release a second single from their upcoming album Monuments to an Elegy.
The new tune is titled 'Drum + Fife' and was just uploaded to the band's official YouTube page, frontman Billy Corgan claims it reminds him of early U2, "the Irish ballad part of the song come alive and have more of a expansive quality."
Monuments to an Elegy is the tenth studio record from the group and is expected to be out on December 5th.
It will be the first album release from the rockers this year and will be followed by a second record as part of the Teargarden By Kaleidyscope mega collection, which will comprise of 44 songs.
It's the first Pumpkins LP since the departure of drummer Jimmy Chamberlin. Veteran rocker and founding member of Mötley Crüe Tommy Lee, fills in to play drums on the album.
Speaking to Gigwise about the second single, singer Billy Corgan said: "Drum + Fife' was originally a folk song. We really had a problem getting it off its almost dour Irish balladeer aspect. And I must give a lot of credit to Tommy Lee, because he's the one who turned the corner. Without saying it he was reacting in a way that told me he thought it was a bit boring. Tommy loves energy. Tommy wants to feel excitement. So he's playing the song and he's like 'I know this is a good song but it's just not working.'
Chatting about the upcoming LP, Corgan said: "It's interesting about Monuments To An Elegy is that every song is pretty different. Some people says it reminds them of all of the Smashing Pumpkins [records] mashed together."
"I don't totally agree with that but I get what people see in that. We've got rockers on there, some sad ballads, we've even got some disco. We got it all."
Listen to the new track 'Drum + Fife' below.
Monuments to an Elegy track list:
01. Being Beige (World's on Fire)
02. Anti-Hero
03. Tiberius
04. Run to Me
05. One and All
06. Drum and Life
07. Dorian
08. Monuments
09. Anaise