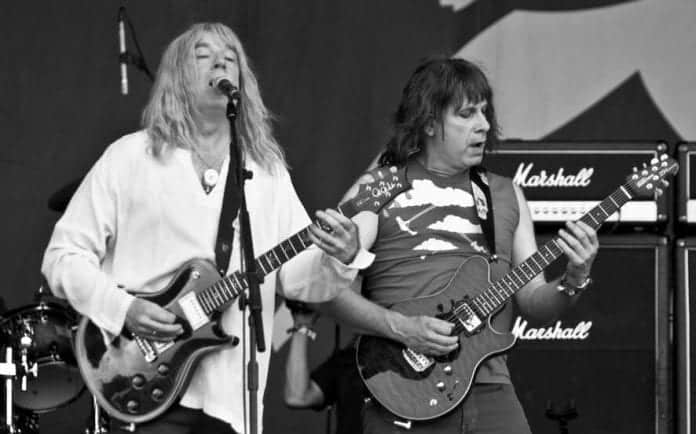 Last Month we reported that the creators of This Is Spinal Tap, Christopher Guest, Harry Shearer, and Michael McKean had Reunited to sue the French media company Vivendi SA for $400 million over fraud, accounting misappropriation, and breach of contract. They claim the French company Vivendi denied them profits from the 1984 'rockumentary'.
They also allege, Vivendi, the parent company of Universal Music manipulated accounting data, while ignoring contractually obligated accounting and reporting processes, to deny them what was owed to them.
In a counter strike, Vivendi have now filed a motion to dismiss the suit. The multinational mass media conglomerate is arguing that the creators didn't comply with standard requirements and hire an accountant to go through the books before filing their lawsuit, therefore, "they lack the information they would need to assert that Studio canal rendered erroneous or improper Spinal Tap participation statements, if that had happened." The motion goes on to scold the plaintiffs and basically claims that if the creators had done their homework correctly they would've realised that (in Vivendi's opinion) they don't have a leg to stand on.
"Plaintiffs may not like the fact that they have not received anything close to the $400 million in contingent compensation that their complaint absurdly claims they should have received," the motion continues haughtily. "But that is only because the movie they made has not generated anywhere near the revenue necessary to pay them anything close to that sum. As a reality check on this lawsuit, even though Spinal Tap has garnered affection in the United States, it has generated U.S. theatrical revenue of under $5 million. Revenue from other sources and territories has been similarly modest."
The motion can be read in its entirety here
In a statement sent to The Hollywood Reporter, the Plaintiffs' attorney, Peter Haviland said, "Vivendi's motion to dismiss is a sadly predictable response. Their motion does not dispute that Vivendi has paid virtually nothing to Harry Shearer, Rob Reiner, Christopher Guest, and Michael McKean for This Is Spinal Tap.
"Yet it asserts these co-creators have no legal right, or standing, to challenge this absurdity. We disagree. Shearer, Reiner, Guest, and McKean formed the group Spinal Tap Productions (STP)," he argues.
"There's no dispute that STP, also a plaintiff, has standing to proceed. Further the creators' claims to intellectual property rights to the film and its music – both trademark and copyright – cannot be dismissed through this legal standing challenge from Vivendi."
The saga continues …
Picture Credit: Chris Boland