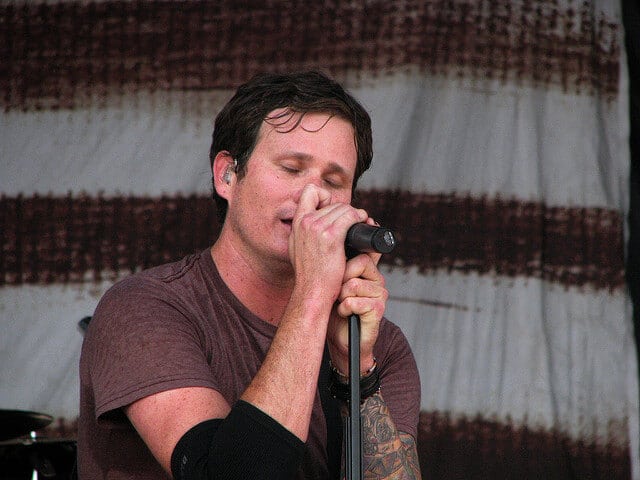 Blink 182's former guitarist & co-frontman Tom Delonge has been named UFO Researcher Of The Year by UFO website/YouTube channel Open Minds TV.
Tom has made no secret of his belief that 'the truth is out there', regularly speaking out about aliens and conspiracies and even claiming he's encountered beings from another planet first-hand.
Ahead of the U.S Presidential election in October, he hit the headlines as a series of emails he had with Hilary Clinton Campaign Chair John Podesta were leaked. In the emails Delonge appeared to be securing meetings with Podesta, with the eventual hope of getting the classified Government files on Roswell and other such UFO conspiracies uncovered.
At the time of the leak Delonge responded via his Instagram page stating that "Big things are coming".
He again comments on the WikiLeaks in his recent acceptance speech, saying "I kind of use some of my notoriety to do something pretty ambitious and it worked," he adds, that "a lot of people doubted" him and "thought it was crazy" that a musician would be in talks about UFOs with influential figures.
He began his acceptance video expressing gratitude for the acknowledgement. "It's been a crazy whirlwind of a year or two," he continues "There's a lot that I can't say but some that I can. I'm so appreciative that I've been acknowledged for this stuff but I'm not done. I'm just like you guys. I spent 20 years up all night, reading about Roswell, Dulce, Serpo, Churchill, the crashes here, Nazis building craft there, Antarctica, what's on Mars, what's on the back of the moon, anomalous structures. I mean, I've done it all. I know it all."
The 'All The Small Things' musician concludes by baiting the UFO community with a pending announcement, "I can't tell you what I'm about to announce … I said there's going to be an announcement within the next 60-ish days. I want you all to know in the UFO community, whoever's passionate about this paradigm shifting subject matter, I need you all to look really, really closely at that announcement and I need you to be a part of it. Because what that announcement is about is so much more than what it will look like on the surface."
"My job has only just begun on this subject matter. And there's some big s**t planned", he adds "And I'm excited about it".
You can watch the full acceptance speech here.
Picture Credit: Alexis Mire