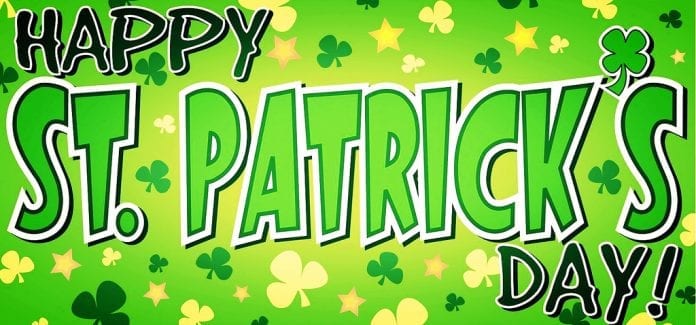 Looking for some ideas of things to do this Paddy's day? Radio Nova's got you covered. Why not check out …
The Riptide Movement at the Olympia Theatre. From 7pm. Tickets €26.
The Full Irish at Whelan's. Fourteen of the best up and coming bands on two stages. From 3pm -3am
The Mighty Folk Session & Stew at The Hot Spot Music Club from 3pm. Singers & musicians welcome. Free entry
St Patrick 's Day party featuring Trad band/ The Goods Live music from some of Dublin's top Trad bands at the Bowery Rathmines.Free all day. Kicking off at 4pm
St Patrick's Comedy Weekend Gala With 4 home-grown killer acts, at the Laughter Lounge. You can't get any more Irish than this. Proudly Supporting Peter McVerry Trust. At 7pm. Tickets €26.
This Ain't No Disco New York – St Patrick's Day Festival Special at the Sugar Club. A new Irish music programme which contains performance, collaboration and conversation hosted by Donal Dineen and directed by Myles O'Reilly. Tickets free via stpatricksfestival.ie. From 6pm
Paddy's Day – A celebration of Irish Culture at The Complex. The Complex has teamed up with the iconic traditional music destination the Cobblestone to curate a celebration truly like no other. Will take place throughout the day catering for families and all ages. Tickets €5/€10. At 2.30pm
St Patrick's Day Celebration at the National Concert Hall. The RTÉ National Symphony Orchestra celebrates St. Patrick's Day with two groundbreaking and hugely popular orchestral works fusing Irish traditional music with the symphonic sound. From 8pm. Tickets €18- €45
And what's Paddy's day without the parade? Here's the low down …
Don't forget to tune into Radio NOVA this weekend for our  BIGGEST IRISH WEEKEND EVER! We have jam packed the schedule this long weekend with the very best homegrown hits and musical talent.
Picture Credit: Epic Fireworks