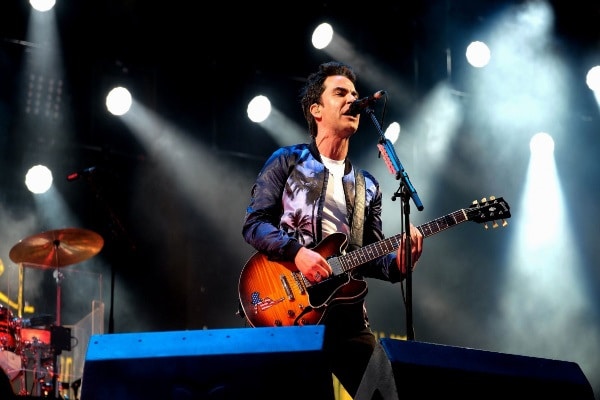 Would you like to listen to the article instead of reading it?
Stereophonics' Kelly Jones has revealed that he dreams about his late bandmate Stuart Cable "at least five times a day".
Former Stereophonics drummer Stuart Cable who was a member of the band from 1992 to 2003, died tragically in 2010, aged 40.
Describing Cable as a "great guy", Jones also revealed that the drummer's son still attends Stereophonics concerts.
"bizarre"
During a recent episode of the podcast I Never Thought It Would Happen, hosted by Chris Difford, Kelly Jones insisted that he dreams of Stuart Cable "at least five times a week". 
When asked if he "takes him (Cable) on stage with him?", Jones described the late drummer as a "big brother" to him, adding that the time surrounding his death was "intense".
"Stuart turns up in my dreams", Jones claimed.
Jones Dreams Of Cable "at least five times a week"
Speaking on the podcast, Jones detailed how often he dreams of his late friend.
"At least five times a week [I dream about him]. It's bizarre", Jones said when asked about how often he dreams of his late bandmate.
"Still to this day… yeah, it's quite strange. I lived in number 54, he lived in 62. We were on the same street all our lives", he continued.
"He'd be playing drums up there, and I'd be playing guitar down there. We merged in my garage and then we took it to the youth club. He introduced me to a lot of music […] it was his big laugh that opened the door a few times". 
The singer also added, "So, him dying at 40… I'd like to say it was a surprise but in many ways, it wasn't because he was that kind of character. I don't think he was ever going to get to be an old man".
Back in 2017, Kelly Jones and Stereophonics paid tribute to Stuart Cable with their single 'Before Anyone Knew Our Dream'.
Check it out below.
A few months ago, Kelly Jones' side project Far From Saints announced they will release their new album this Summer.
However despite this, Jones insisted that Stereophonics have not split up, assuring fans that "Phonics are still together despite his latest venture". More on this here.