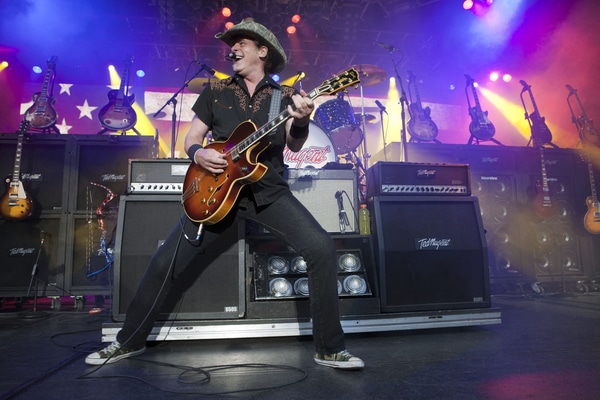 Branding it "ridiculous", Ted Nugent has dismissed his Rock and Roll Hall of Fame snub, saying "I don't need it".
The controversial rockstar once again spoke about his feelings over which artists he feels should and shouldn't be inducted into the Hall of Fame.
Nugent on Hall of Fame inductees 
Last month, Ted Nugent had his say on the artists being inducted into the Hall of Fame, once again without mincing his words in true Nugent style.
"Why am I not in the Rock & Roll Hall Of Fame? That has a lot to do with the fact that you can't always explain why people are rotten", Nugent said back in December. "Why do some people violate other people and commit vicious crimes and lie?".
"I think I'm in the ultimate Hall Of Fame. I went on stage a couple days in Abilene [Texas] with a great man Tim Montana. The Tim Montana band opened up for ZZ Top to a packed house in Abilene. Tim Montana says, 'We learned 'Cat Scratch Fever'. Come up and play it with us", he added.
More on this here.
"Why did I criticise?"
In a fresh interview, Ted Nugent doubled down on these comments.
"When I criticise the Rock And Roll Hall Of Fame…let's take me out of the equation. Let's say I don't qualify — which is ridiculous — but let's pretend I don't qualify. But why ABBA before Styx? Why Patti Smith before Triumph? Why Grandmaster Flash or JAY-Z at all?", he said.
"I mean, to think that they would qualify before the artists I just mentioned, and myself included, it's just dishonest and it's literally disrespectful to the Gods of this music — Chuck [Berry] and Bo [Diddley] and all the Gods that created this incredible soundtrack". 
"But I don't take it personally because I don't need it", Nugent insisted. "And quite honestly, the authenticity of the Rock And Roll Hall Of Fame has been so tainted by the inclusion of not just non-rockers but anti-rockers. Madonna? Really? So I find it offensive on that level". 
"I go back to the people thinking I hated Grandmaster Flash," he continued. "I don't hate anybody…I don't take this stuff personally but I find it offensive to real rockers, to real rock artists and to real rock and roll fans…And I hope he's happy, I hope he's healthy and successful". 
"But Rock And Roll Hall Of Fame? Why don't we just go down to Chuck Berry's grave and take a shit on it? That's what that represents to me. And it's unforgivable". 
Nugent had already insisted that he is not feeling bitter regarding his omission.
"I'm not angry that I'm not in there because I'm having so much fun that it's stupid", he said.