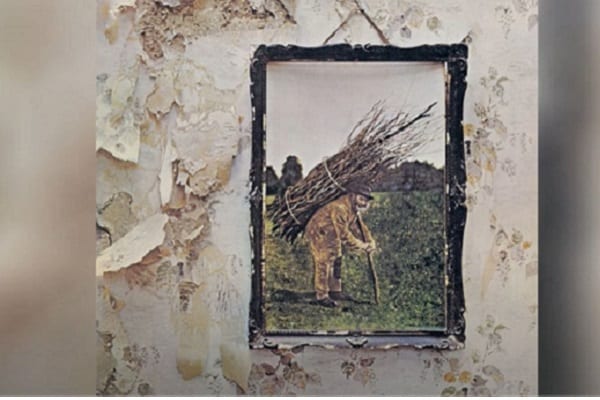 Today on Nova, we will be offering a serving from the 1970s, 80s and 1990s, as The 50 Albums That Changed Your Life looks at Led Zeppelin, Bryan Adams and Red Hot Chili Peppers.
'IV' – Led Zeppelin 
Coming up at 10am, we will be playing music from Led Zeppelin's album 'IV'.
Following the cycle of the the three previous studio albums, Led Zeppelin's 'IV' had no title printed on the front cover, nor did it feature any lettering on the LP.
This was a deliberate ploy from Led Zeppelin, who were keen to be solely judged on their musical prowess.
They certainly did not need to worry on that score, as this record became one of the biggest selling albums of all time, selling 37 million copies and counting.
Released in November 1971, Led Zeppelin had already assured their iconic status as an influential rock group. The album spent 90 weeks in the in the UK Album Chart, peaking at number 1 there, and number 2 in the US.
Included in what has turned out to be Led Zeppelin's biggest seller, are tracks such as 'Stairway To Heaven', 'Black Dog' and 'Rock and Roll'.
Tracks which you can enjoy from 10am right here on Nova.
Former frontman Robert Plant spoke last year about the legacy of the album and why a certain cover of 'Stairway To Heaven' gave him a huge lump in his throat.
Find out more here.
'Reckless' – Bryan Adams
From 1pm, you will be able to find out why Bryan Adams' 1980s album 'Reckless' was the first Canadian record to sell over 1 million copies.
Having left the top 10 for a little while following its release, the album suddenly saw a major resurgence the following year, with hits such as 'Run To You' topping the US Charts, while 'Heaven' and 'Somebody' reaching the Bilboard Hot 100 charts.
Incidentally, several basic tracks from the album were recorded at Little Mountain Studio in Canada, which was owned by Bob Rock and Bruce Fairbairn.
However, it was not quite fit to record big drum sounds, so they had to make do with the building's garage for recording other tracks!
'Reckless' eventually landed the album of the year award for 1985, selling 12 million copies worldwide.
Tune in from 1pm, to hear hits like 'Run To You', 'Somebody' and 'Heaven'. 
'Californication' – Red Hot Chili Peppers 
Rounding off the play for the 50 Albums That Changed Your Life for today, we will be playing tunes from Red Hot Chili Peppers' 7th studio album 'Californication'.
Arriving in June 1999, the album saw a return to the fold for John Frusciante replacing guitarist Dave Navarro for the second of three stints with the band.
With 16million copies worldwide, 'Californication' boasts the title of being Chili Pepper's most commercially successful album to date, with 5 million copies sold in the US, along with 4 million in Europe.
The album also reached top spot in countries like Finland, Sweden, Austria, and New Zeland, as well as being a best seller in Germany.
Including hits like its title track, 'Californication', 'Scar Tissue' and 'Otherside', it also peaked at number 3 in the Billboard 200.
Indulge yourself this afternoon with a helping of these hits from 4pm RIGHT HERE ON NOVA!!!