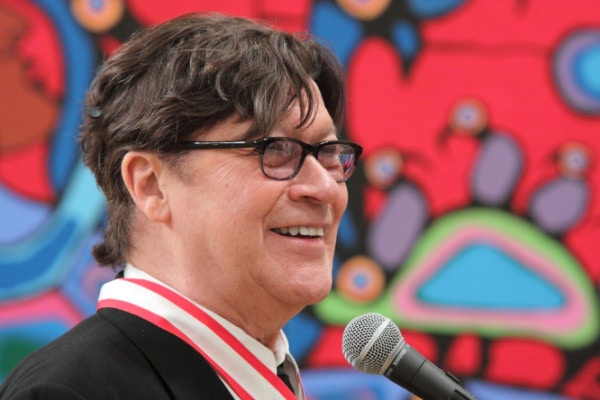 Would you like to listen to the article instead of reading it?
Tributes have been paid to The Band's songwriter, and guitarist Robbie Roberston, who has died aged 80.
Having initially formed The Hawks as a teenager, alongside Ronnie Hawkins, Rick Danko, Levon Helm, Garth Hudson, and Richard Manuel, the band split from Hawkins in 1965.
The band was later recruited to be Bob Dylan's backing group for his pivot non-acoustic solo.
Three years later, Robertson and co rebranded as The Band, releasing their debut album 'Music From The Big Pink' that year.
The Band went on to release hits such as 'The Night They Drove Old Dixie Down', 'Up on Cripple Creek', 'The Weight', and 'It Makes No Difference'. Their farewell tour took place in 1976.
A farewell documentary, titled 'The Last Waltz', was documented by famous director Martin Scorsese in 1978, and considered an all-time classic.
"I tried to be the same for him"
Following 'The Last Waltz', Robbie Robertson maintained a solid working relationship with Scorsese.
Robertson scored several of Scorsese's movies including Casino, The Wolf Of Wall Street, Raging Bull, and The Irishman.
His final score will come in Scorsese's new film 'Killers Of The Flower Moon', which arrives later this year.
"Robbie Robertson was one of my closest friends, a constant in my life and my work. I could always go to him as a confidante. A collaborator. An advisor. I tried to be the same for him", Scorsese said in tribute to Robertson.
He also added, "Long before we ever met, his music played a central role in my life—me and millions and millions of other people all over this world. The Band's music, and Robbie's own later solo music, seemed to come from the deepest place at the heart of this continent, its traditions and tragedies and joys. It goes without saying that he was a giant, that his effect on the art form was profound and lasting. There's never enough time with anyone you love. And I loved Robbie".
Along with his work with Scorsese, Robbie Robertson also worked with his former bandmates on side projects, as well as releasing his own solo album in 1986, and sophomore record 'Storyville' in 1991, releasing his final album 'Sinematic' in 2019.
"the music world lost a great one"
Robbie Robertson's career also saw him contribute to records for the likes of Tom Petty & The Heartbreakers, Ringo Starr, Neil Diamond and others.
"The music world lost a great one with the passing of Robbie Robertson. Keep making that Beautiful Noise in the sky, Robbie. I'll miss you", Diamond tweeted.
The music world lost a great one with the passing of Robbie Robertson. Keep making that Beautiful Noise in the sky, Robbie. I'll miss you.

— Neil Diamond (@NeilDiamond) August 9, 2023
Ringo Starr also added, "God bless Robbie Robertson, peace and love to all his family peace and love. Ringo".
Check out more tributes below.
Rest in peace Robbie Robertson, legendary lead guitarist of The Band, fellow Canadian, and cherished collaborator of Joni's. May his legacy and musical harmony resonate for generations to come.

Photo from the Michael Ochs Archives pic.twitter.com/1rdu7tihjS

— Joni Mitchell (@jonimitchell) August 9, 2023
Fly on sweet angel.

RIP. Robbie Robertson
July 5, 1943 – August 9, 2023

Thank you for all the music. pic.twitter.com/0hOIeUorvm

— Jimi Hendrix (@JimiHendrix) August 9, 2023
Robbie Robertson was a brilliant songwriter, guitarist, and composer whose gifts changed music forever. I'm grateful for all the good memories he gave me—going back to his time in the Hawks when I was a teenager—and for his kindness through the years. I'll miss him.

— Bill Clinton (@BillClinton) August 9, 2023
The loss of Robbie Robertson is heartbreaking. Canada has lost an icon, and music has lost a poet and a scholar.

— Kiefer Sutherland (@RealKiefer) August 9, 2023
Guitarist. Songwriter. Storyteller. Robbie Robertson was a big part of Canada's outsized contributions to the arts. I'm thinking of his family, friends, and fans who are mourning his loss. Thank you for the music and the memories, Robbie. pic.twitter.com/36UuOq8vhJ

— Justin Trudeau (@JustinTrudeau) August 10, 2023
Robert Robertson is survived by grandchildren Angelica, Donovan, Dominic, Gabriel, and Seraphina.
His family have also called for donations to be made to Six Nations of the Grand River in lieu for sending flowers. These donations will help to support a new Woodland Cultural Centre.