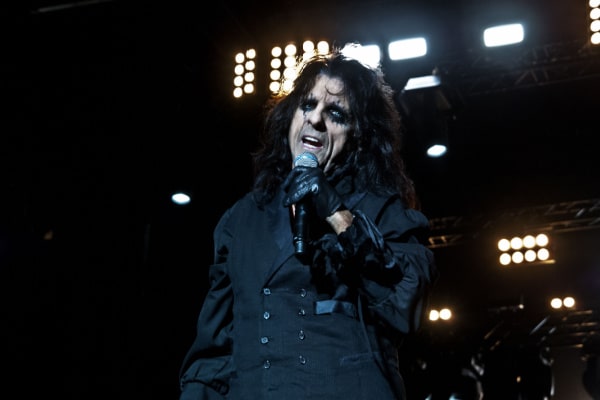 Alice Cooper has released his latest single 'Welcome To The Show'.
The track which you can check out below, features on his new album 'Road', which arrives on August 25.
'Welcome To The Show' includes the lyrics, "Top hat! Cane! House lights! Intro tape! It's time!".
Here it is.
"No overdubs"
The album itself sees Cooper join forces with long time producer Bob Ezrin, along with his live band, including Nita Strauss.
"I wanted to show off the touring band, so we wrote songs, went in the studio, and I said, 'Here's the deal on this album: No overdubs" Cooper said.
"I said, 'Everything has to be done in the studio live because the whole idea of this album is showing off how good this band is live.' So when you hear this album, it sounds like a studio album, but it's actually them playing live in the studio".
Paying homage to his band, which also includes Tommy Henriksen, Ryan Roxie, Chuck Garric, alongside Strauss, Cooper also added this.
"In the past, the show got reviewed before the music did," Cooper said in an advance statement about the record. "We had hit No. 1 albums, but it was always about what we did onstage. For Road, I wanted the band to be involved in the foundation of all the songs".
Cooper is on the verge of kicking off a major live tour with Def Leppard and Motley Crue, titled 'Too Close For Comfort', which kicks off on August 24.
"Like anything else, we have to do the hits", Cooper said when previously speaking about the tour's catalogue. "The audience wants to hear the hits, so it's, How do you decorate those hits? How do you put them into a story form or some kind of a new way of looking at the show." He does promise that "we've added two or three new things," and he holds out the possibility of changes being made during rehearsals".
After thousands of gigs and easily a million miles traveled, Alice Cooper revs up as loudly as ever on his new album "Road" coming August 25.

Take your first ride with the new single "I'm Alice!" Watch the video + pre-order your copy of "Road" at https://t.co/QHFamVFBrE pic.twitter.com/98zRnSsv5X

— Alice Cooper (@alicecooper) June 14, 2023
Back in April, Cooper also mentioned his five favourite Horror movies. More on that here.