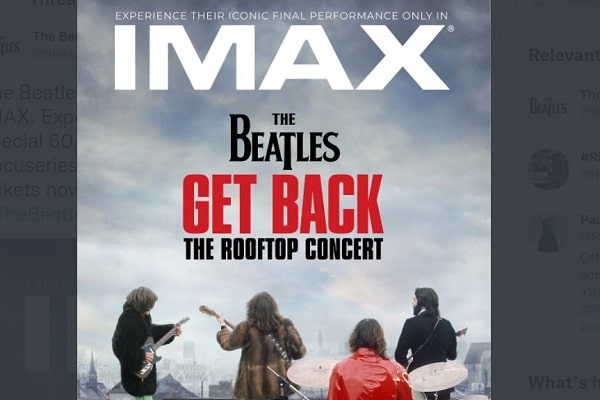 That famous moment from 1969 where the Beatles perform a special concert on the rooftop of Apple Corps London will be screened on IMAX later this month.
The screenings will take place in US theatres on January 30. The concert will also get a screening in London at Odeon's BFI IMAX on the same day, with an 8pm start.
If that was not enough excitement, the man himself Peter Jackson will also take part in a Q&A following the screening. Get your hands on tickets for this here.
The Beatles: Get Back – Rooftop Concert is coming to IMAX. Experience the unforgettable performance in a special 60-minute presentation of Peter Jackson's docuseries in a one night event on January 30. Get tickets now: https://t.co/aW9rj0jE8w#TheBeatlesGetBack pic.twitter.com/68lQBuuOQd

— The Beatles (@thebeatles) January 5, 2022
Speaking of this rooftop performance, retired cop Ray Shayler spoke about shutting down the famous gig. Check that out here.
"absolute perfect way to see and hear it"
Lasting for 60 minutes, this film follows Peter Jackson's three part documentary The Beatles: Get Back.
This concert also features in this film, while film will also celebrate 53 years since the Beatles' final performance in front of the public eye.
The film's footage and audio has been remastered and optimised for IMAX.
"I'm thrilled that the rooftop concert from The Beatles: Get Back is going to be experienced in IMAX, on that huge screen", Peter Jackson said of the concert film. "It's The Beatles' last concert, and it's the absolute perfect way to see and hear it".
The film directed by Jackson was produced from 55 hours of footage. These were shot by Michael Lyndsey-Hogg in 1969. It was also put together from 140 hours of recording and audio sessions.
It was released on November 25 last year.
Following its release, Peter Jackson had said that the film would make the Beatles seem "young again".
Jackson also revealed that Disney+ wanted all swearing removed from the documentary. This was rejected by the remaining band members Paul McCartney, and Ringo Starr.
"When they got to see the finished thing, I was expecting notes", Peter Jackson said at the time. "It would've just been normal to get a note saying: 'Oh, that bit where I say that – could you cut that out?' Or 'could you shorten the conversation there?' And I didn't get a single note. Not one request to do anything".
He also added, "One of them said that they watched it and found it one of the most stressful experiences of their entire life. 'But I'm not gonna give you any notes".