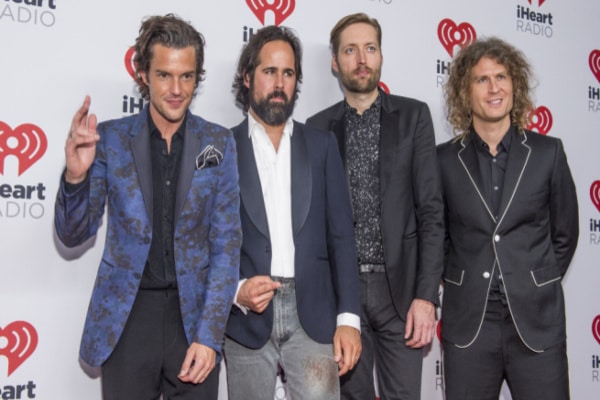 During their gig in Manchester over the weekend, the Killers took a pause as their frontman Brandon Flowers stopped to check on an elderly crowdsurfer.
The Killers were performing at Manchester's Emirates Old Trafford as part of their UK and Ireland Stadium Tour.
This tour is supporting the band's previous albums 'Pressure Machine' and 'Imploding The Mirage'.
"I said Billy what ya doin?"
During their gig in Manchester, Killers' lead singer Brandon Flowers spotted an elderly crowd member being taken over a barrier.
He paused the show to check on the member of the audience.
"I said Billy what ya doin'?", Flowers told the audience. To which the pensioner replied, "He told me 'I'm enjoyin' me self'". 
Check out more on this incident here.
Billy the crowd surfer at The Killers tonight in Manchester🙌🏼🙌🏼 pic.twitter.com/Yr58toyH0g

— lawrie bacon (@lawriebacon) June 11, 2022
Brandon Flowers has had less eventful interactions with the audience since this Killers tour commenced.
Each gig, the Killers have been taking a member of the crowd onto the stage to join them as they performed the track 'For Reasons Unknown', with the fan taking on the role as drummer, while using Ronnie Vannucci's drum kit.
On the first of two live performances at Falkirk, 28 year old Kyle Grieve was in the audience, when he held up a banner asking to drum with the band on stage.
Pointing to the banner, Flowers said, "If you want to play on this stage, you have to mean business". 
The second night saw Grieve who also drums for Edinburgh based band Retro Video Club, holding aloft a new sign saying, "tonight I mean business". 
"Let him come up", was Flowers' response.
This performance was also shared via social media. See for yourselves here. There is also more from this Nova report here.
Earlier this year, the Killers also released a reimagined version of their track 'Getting By'. More on this story here.