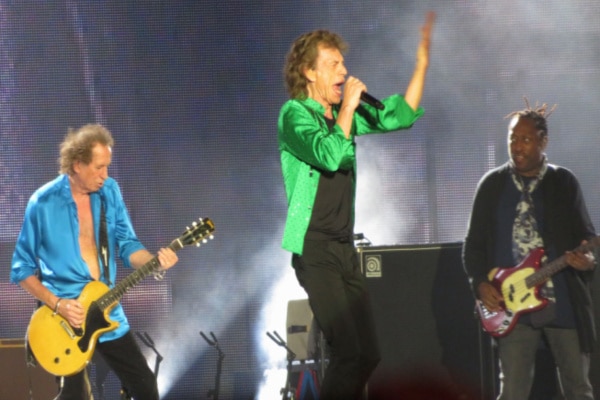 Last night saw the Rolling Stones play their first gig at Liverpool's Anfield for the first time in 50 years.
This concert was part of the band's 'Sixty' UK and European Tour, which began on June 1 and saw the Stones hit cities such as Madrid, Copenhagen and London.
Ahead of their gig at Anfield, the Rolling Stones had announced that they would be supported by Liverpudlian band Echo and the Bunnymen. Their frontman Ian McCulloch said that working with the Rolling Stones "two dreams in one".
"Two dreams in one – there's nothing like The Rolling Stones, and there's nowhere like Anfield", he also said. More on this from Nova here.
"great to be back"
Addressing the crowd at this gig, Mick Jagger was thrilled to return with the band to Anfield for the first time in half a century.
"It's great to be back in Liverpool after such a long time", Jagger told the audience. "Long time, no see". 
Mick Jagger also added that the Rolling Stones were trying to think of innovative ways to honour Liverpool. He also revealed that the Rolling Stones had thought of a live cover of "You'll Never Walk Alone".
However, the Rolling Stones subsequently settled on a live cover of Beatles classic 'I Wanna Be Your Mine". 
Jagger said "But, we decided instead to do a cover of a song written by some other local lads". 
"So we're doing this especially for you Liverpool, OK?", he added.
The track, which you can see below, was written by John Lennon and Sir Paul McCartney, but was originally released by the rock band.
The Stones were handed this famous tune from McCartney and Lennon in 1963. The Rolling Stones' cover of the track reached number 12 in the UK Charts. It was released on the Beatles album With The Beatles three weeks later.
Mick Jagger and co had started the night by paying tribute to the late drummer Charlie Watts, who passed away last year.
Jagger told the audience, "In 1962 we met a drummer called Charlie Watts and this is our first tour in England we've done without him so we'd like to dedicate this show to Charlie". 
From Liverpool with love!
It was great to see you all tonight 🎸

Band photos: Dave Hogan pic.twitter.com/WbFiFBHq61

— The Rolling Stones (@RollingStones) June 9, 2022