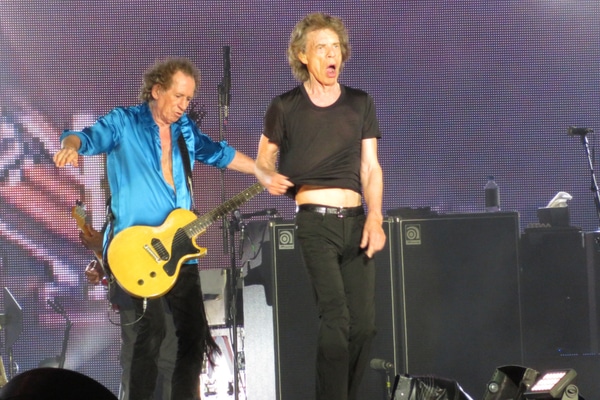 The Rolling Stones have shared two previously unheard recordings from 1977.
These recordings are live tracks 'Hot Stuff' and 'Tumbling Dice' which were recorded by the Rolling Stones from secret concerts at the Toronto club El Mocambo in March 1977. The club itself had a capacity of 300.
This is also the second live album set to be released by the Rolling Stones this year. The band had already confirmed the upcoming release of 'Licked Live In NYC' which will arrive on June 10.
The live record will focus on the Rolling Stones' 2003 Tour, including a documentary called Tip of the Tongue which will capture the band's preparations for their show in Amsterdam. More on this here.
'Live At The El Mocambo'
The recently released recordings feature on the Rolling Stones' upcoming live album 'Live At The El Mocambo', which arrives on May 13.
You can also check these recordings out for yourselves below.
This album will also be accessible on a double CD, 4xLP Neon Vinyl, 4xLP Black Vinyl, as well as digitally.
The album will also feature bonus tracks from a Rolling Stones gig from 4 March 1977. It has been newly mixed by Bob Clearmountain.  You can pre order this album here.
Check out the two tracks below.
Rolling Stones 'Live At The El Mocambo' Tracklist 
The live album's tracklist is as follows:
1. 'Honky Tonk Women'
2. 'All Down The Line' 
3. 'Hand Of Fate'
4. 'Route 66' 
5. 'Fool To Cry' 
6. 'Crazy Mama' 
7. 'Mannish Boy' 
8. 'Crackin' Up' 
9. 'Dance Little Sister'
10. 'Around And Around'
11. 'Tumbling Dice' 
12. 'Hot Stuff' 
13. 'Star Star' 
14. 'Let's Spend The Night Together' 
15. 'Worried Life Blues' 
16. 'Little Red Rooster' 
17. 'It's Only Rock 'N' Roll (But I Like It)' 
18. 'Rip This Joint' 
19. 'Brown Sugar' 
20. 'Jumpin' Jack Flash'
21. 'Melody' 
22. 'Luxury' 
23. 'Worried About You'
Speaking ahead of their upcoming 60th anniversary tour, Rolling Stones frontman Mick Jagger does not believe that this will be the last one for the band. 
"I am not planning it to be the last tour", Jagger said when asked if this would be the band's last hurrah.