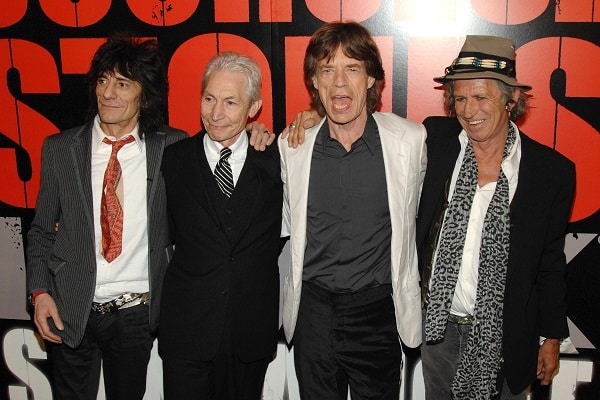 Mick Jagger, Ronnie Wood and Keith Richards are to pay tribute to their Rolling Stones bandmate Charlie Watts in a brand new documentary exploring the band's history.
This new documentary My Life As A Rolling Stone is to consist of four parts. The first episode will air on the BBC on July 2, with the episode on Charlie Watts airing later that month.
Charlie Watts passed away last August aged 80.
"One word particular"
That final episode of this documentary sees Jagger, Richards and Wood all paying tribute to Charlie Watts.
In the episode, frontman Mick Jagger hailed Charlie Watts as "the best drummer England has ever produced". 
Jagger also added, "You can't imagine the Stones without Charlie Watts. Charlie was the engine". 
"People like Charlie Watts are very hard to put in a pocket, they don't make pockets for people like Charlie. He was a totally unique guy". 
"I miss Charlie on many levels… I miss him a lot", he stated.
Jagger and co also spoke about how Charlie faced his battle with addiction, with Keith Richards being credited with Watts overcoming his demons.
"I told him: 'It's just not you, Charlie", Keith Richards can be heard saying in this episode.
Richards continued, "The main thing that really worried me about Charlie at a point was that he was drinking heavy duty cognac… If he was dabbling with other stuff I didn't really mind, it was the booze". 
"Some people are just perfect as they are. They don't need stimulants. Us imperfections, we need help, but Charlie Watts didn't need any, he was immaculate, an immaculate conception. Bless his heart". 
"One word: particular"
Along with his addiction battles, the band members also spoke about Charlie's unique packing routine.
On Wood's packing habits, Ronnie Wood said, "One word: particular". 
"Clothes had a layer of tissue paper in between, each shirt, each sock, each underpant, each jacket. Pristine would be the word. Not one thing out of place".