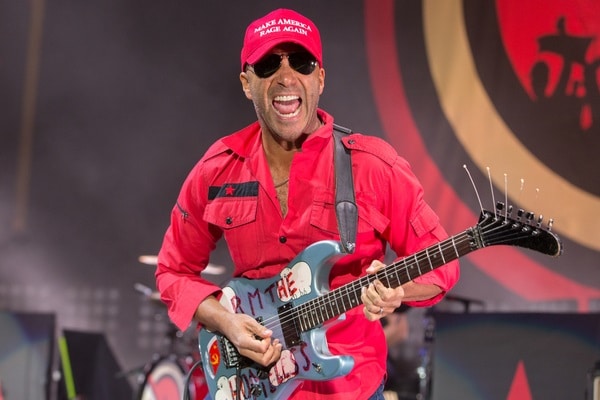 Would you like to listen to the article instead of reading it?
Tom Morello has become an honorary citizen of Italy, as well as being supplied with keys to his ancestral hometown.
This came about after the singer's great-great grandfather left Pratiglione to live in the US in the 1800s.
The Rage Against The Machine frontman was presented with his citizenship by mayor Giovanni Trucano in the Italian town of Pratiglione last weekend (Julu 23).
"Bands played!"
Marking this event, Tom Morello shared a photo of the big day via Instagram.
"I just became an honorary Italian citizen & received the key to the city of the Morello ancestral hometown of Pratiglione, Italy!", Morello wrote.
He also added, "Bands played! Children frolicked! Dozens of Morello cousins partied! The mayor wore blue! Awesome guitar statue erected in town square next to the memorial for local partisans who died fighting the Nazis! Grazie, Pratiglione!".
Back in 2021, Tom Morello wrote a letter where he asked for help in evacuating a number of young people out of Afghanistan, after the country was taken over by the Taliban.
Morello was supporting his friend Lenny Cordola, who runs a music school for girls in Afghanistan. It is a non-profit organisation called Miraculous Love Kids.
"We're trying to investigate if getting them to the Pakistan border is a possibility", he told Billboard at the time.
He also added, "We've been talking to a lot of different people, rescue organisations. We need to get them out of Afghanistan to start a new life somewhere". More on this from Nova here.