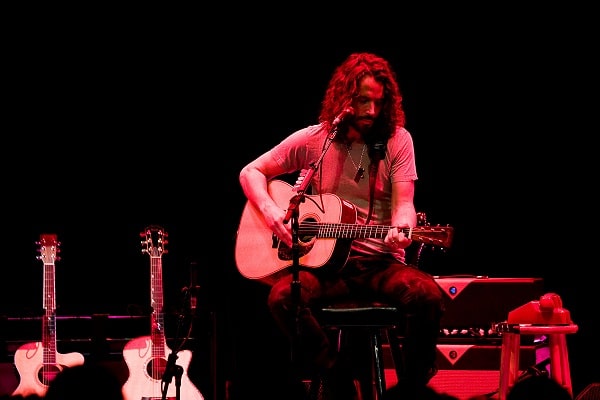 Tributes were paid to the late Soundgarden frontman Chris Cornell on the fifth anniversary of his death.
Cornell died from suicide on 18 May 2017. He was 52 years old.
Cornell's band paid tribute to their late frontman, along with Rage Against The Machine and his widow Vicky Cornell.
"His final show, his final performance"
Writing on his Instagram page, Vicky Cornell penned a set of emotional tributes to her late husband.
"Five years ago tonight, Chris would take the stage for the last time", she wrote first.
"It was his final show, his final performance – but nobody knew it at the time. I've seen the quote 'you never know when the last time will be the last time' and that rings way too true. If you told me before he went on the stage that fateful night, the night would end this way – I would never have believed you".
She also added, "Nobody who knew Chris would. In our lifetime everything has a last time – but in the moment, you never know it will be the last time – till you are looking back. Chris lived in the moment and took nothing for granted. We forget how fragile life is, how fluid relationships are and how things can change in a minute. Never miss an opportunity to tell somebody you love them – Chris told us every single day". 
"To all of his fans – please know he loved you as much as you love him. He was so grateful to be able to make music, perform all over the world, have his music & lyrics touch your heart & impact your lives. He loved receiving love from all of you". 
See the post in full here.
Soundgarden & Rage Against The Machine Share Tributes To Cornell 
Rage Against The Machine's Tom Morello took to social media to pay tribute to Cornell.
"Five years ago today. Miss ya buddy", the frontman wrote.
Five years ago today. Miss ya buddy. pic.twitter.com/Uq80wiDE1j

— Tom Morello (@tmorello) May 17, 2022
Soundgarden also wrote, "Chris, five years we have missed you, you have love, you have peace, you have eternity. Love and peace for all of Soundgarden's brothers and sisters". 
Other musicians paying tributes to Cornell also include his daughter Toni and Pearl Jam drummer Matt Cameron
Speaking of Toni Cornell, she delivered a very powerful cover of Leonard Cohen's 'Hallelujah' back in January. See here.