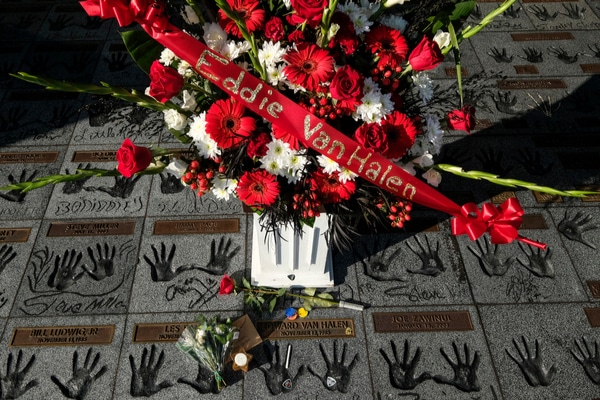 Friends and family of the late, great, Eddie Van Halen have paid tribute to the Van Halen guitarist, with yesterday marking one year since his passing. Eddie's wife, his son, and former bandmate, all left heartfelt messages on their social media in celebration of him.
Taking to Instagram, Wolfgang Van Halen left a warming tribute to his father, praising Eddie for fighting until the end. He wrote, "One year. You fought so hard for so long, but you were still taken away. It's just so unfair. I'm not ok. I don't think I'll ever be ok. There's so much I wish I could show you. So many things I wish I could share with you. I wish I could laugh with you again. I wish I could hug you again. I miss you so much it hurts. I'm trying to do my best here without you, but it's really f****** hard. I hope you're still proud. I love you with all of my heart, Pop. Watch over me."
Former bandmate, and one-time Van Halen member, Sammy Hagar took to his Instagram to share a brilliant photo of the pair performing onstage together. Hagar captioned the photo beautifully with the brief message, "I can't believe it's been a year. The man is gone but the music lives on. #forever".
Eddie's widow, Janie Liszewski Van Halen, shared a message of how she thinks of her husband "every single day. Your smile, your laugh, your kindness – in every single way. I miss this, I miss us, I miss you, and I try my best to carry on the way you would want me to. But my Peep, some days, that's really hard to do. This will never get easier because there really is no getting over you. The only solace that I can seem to find is knowing you are with God and truly free. Until our souls find each other again, please keep an eye on me. I love you and miss you so much. Love, Your PooPee and our Kody too."
The influential guitarist and songwriter (65) is best known for his work with American rock band, Van Halen, delivering exquisite guitar solos to monumental songs, and a guitar masterclass for Michael Jackson's hit track, Beat It. The band's lead guitarist and co-founder sadly lost his battle with cancer in October of last year, leaving behind a family, friends, and an astronomical legacy.