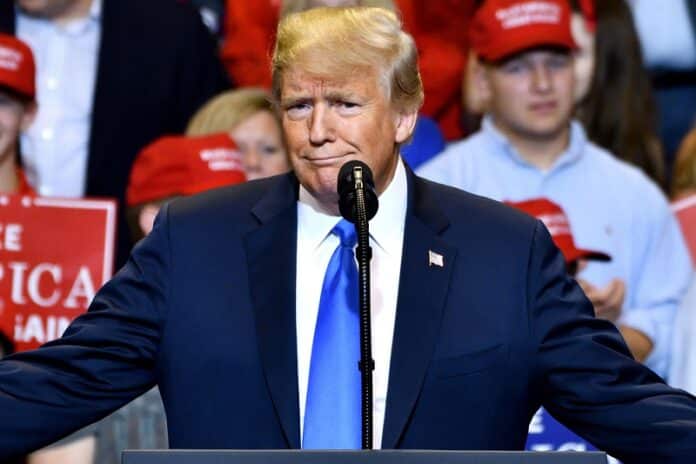 US President Donald Trump has labelled the 'bribery for pardon' scheme as fake news, as the US Justice Department continues their investigation.
The investigation has been ongoing since August. It is alleged that donations were made to Trump's presidential campaign in exchange for a pardon from the outgoing President.
There is a document that discusses the legality of searching communications and electronic devices of individuals, including attorneys, is highly redacted, with all identifying information blacked out.
However, it refers to a 'secret lobbying scheme' directed at 'senior White House officials' to gain a 'presidential pardon or reprieve of sentence' for an unnamed individual.
The scheme includes lobbyists, lawyers, a donor to a political campaign and a man or woman who is or was in prison and is hoping for presidential intervention.
The documents suggest that lobbyists and lawyers contacted White House officials requesting a presidential pardon or reprieve citing the 'past substantial campaign contributions' and 'anticipated future substantial contributions' from a donor.
There are no references to President Donald Trump or his campaign. They show no indication of when the contact was made. The President took to Twitter as usual and said it was fake news.
Pardon investigation is Fake News!

— Donald J. Trump (@realDonaldTrump) December 2, 2020
Speculation is rife in the American media and the political spectrum that Donald Trump is preparing to hand out many more pardons and clemency in the coming weeks. Last week, the President pardoned his former national security advisor, Michael Flynn.
Flynn was a senior advisor for Trump's 2016 presidential campaign. He acted as the national security advisor until he resigned after it was made public he misled Vice President Mike Pence about the nature and content of his communication with Russian ambassador to the US, Sergey Kislyak.
President Trump has also granted pardons or reduced prison sentences for some political allies. These include campaign consultant Roger Stone, controversial former Arizona sheriff Joe Arpaio and Republican activist Dinesh D'Souza.
The New York Times have reported that Donald Trump has discussed potential pardons for his lawyer, Rudy Giuliani, his three oldest children and his son-in-law, Jared Kushner.
There has also been discussions of Trump giving himself a pardon for any crimes he committed in office, however, the legality of this has yet to be tested.
Last week, Donald Trump said he would leave office if the electoral college votes Joe Biden as the winner of the election. The electoral college vote will be ratified on December 14.