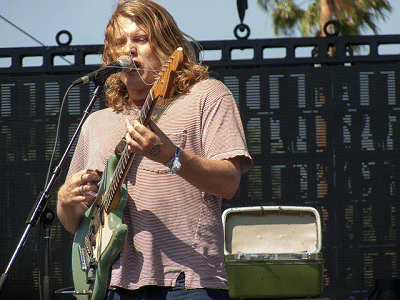 American singer and guitarist Ty Segall unveils a new music video for the track 'The Singer' from his new LP.
This is the seventies revivalist's second single to be taken from his insanely good Manipulator album.
Ty Segall's had a steady release of records since his self-titled debut in 2008 – Manipulator is his seventh solo release.
The first video he put out for his debut single 'Manipulator,' was a trippy, psychedelic interactive clip, that can be altered by clicking different background objects, to create freaky and kaleidoscopic imagery.
His new video is a little less manic, but is nonetheless still very enjoyable. It begins with Ty Segall pushing record on a video camera, standing in front of a red-brick wall, playing his guitar. No special effects, no curtains on fire or crazy aliens in the desert like 'Manipulator'.
The San Franciscan native appears to be in an attic, surrounded by miscellaneous items that are scattered all over the floor. He stands statuesque for most of the video, until towards the end when he begins to levitate.
If only that was the strangest thing in the footage, very early on the singer is flanked by a band of ghosts, each of them casually playing an instrument. My favourite is the violin toting ghoul that appears over the fridge.
The song starts off quite slowly and gently but like so many Ty Segall songs, builds to a crescendo of garage-rock excellence.
Watch Ty Segall's video for 'The Singer' below.
Ty Segall's musical style draws from Bowie, Black Sabbath, The Stooges and The Beatles. His new album titled Manipilator will be his seventh solo release. His new LP has been compared to David Bowie's Diamond Dogs, the New York Dolls' Too Much Too Soon and Neil Young's On The Beach.
Track list:
1. Manipulator
2. Tall Man, Skinny Lady
3. The Singer
4. It's Over
5. Feel
6. The Faker
7. The Clock
8. Green Belly
9. The Connection Man
10. Mister Main
11. The Hand
12. Susie Thumb
13. Don't You Want to Know? (Sue)
14. The Crawler
15. Who's Producing You?
16. The Feels
17. Stick Around