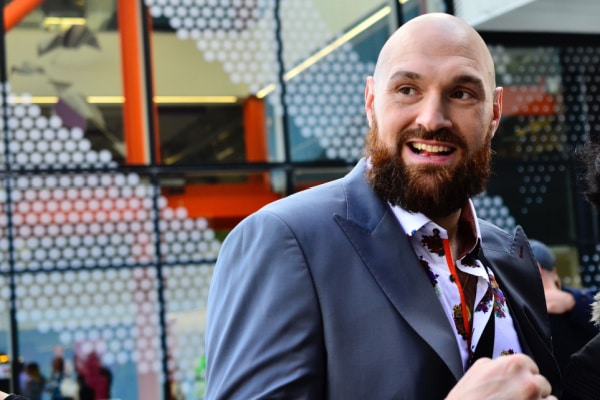 Tyson Fury has announced plans to release a cover of classic Neil Diamond number 'Sweet Caroline' , to raise funds for men's mental health charity Talk Club.
Talk Club are a charity who offer talking groups, sports groups and other therapy for men.
The track will be released on November 11, ahead of the Fifa World Cup in Quatar, which begins on Novemer 20.
"Suicide is the biggest killer of men under 50 in the UK. Tyson Fury is a champion, in and out of the ring to many of those men", Talk Club co founders Gavin Thorpe and Ben Askers said.
"Men see themselves in Tyson, so when he talks – or sings – they listen".
Fury's cover, comes just weeks after Liam Gallagher released his single 'Too Good For Giving Up', again to raise funds for Talk Club. The former Oasis singer released this single for World Mental Health Day (October 10).
Check out the cover and Nova's report for more here.
"an added bonus"
Since then, Tyson Fury has confirmed plans to release his cover of 'Sweet Caroline'. Once again, all proceeds will go towards Talk Club.
"Sweet Caroline is a record I've always loved and I'm excited to record and release it", the boxer said. "And thanks to the folks over at Warner Music, they've given me the opportunity to do that, and what better time to release it than around the World Cup".
Fury also added, "If it helps England along the way in the World Cup, well that's an added bonus".
Having previously revealed his own personal struggles with mental health, Tyson Fury hopes this initiative will encourage more men to speak up and seek advice.
"Boxing has been a massive platform for me to spread the word on mental health and I have done it to the best of my ability", Fury continued. "I have been very vocal about my mental health struggle, especially since my comeback".
"It has been widely printed about my highs and lows, ups and downs, so I've tried my best to keep talking about it as much as I can and keep trying to smash the stigma".
Tyson Fury is also no stranger to covering classic tracks, having teamed up with Don McLean to cover 'American Pie'. Check that out here.