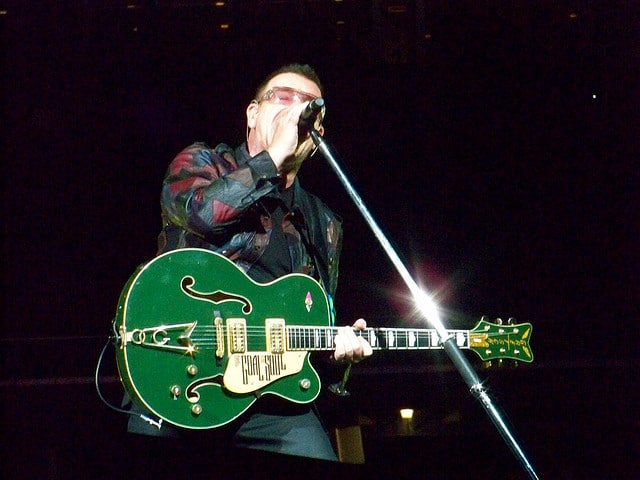 U2 delay their scheduled appearance on Jimmy Fallon's Tonight Show, as Bono requires surgery after a bicycle accident.
The Irish rockers were due to play the iconic American late night television chat show for a week-long residency.
Bono has certainly been trying his best to recreate his own version of the film 'Final Destination'.
Last week, the Irish singer dodged death when travelling on a private jet. Midway through a flight from Dublin to Berlin, the rear door of the plane fell off.
This time around, it was a land-based travel vehicle that caused Bono's heart rate to rise. As the singer pedaled his way through New York's Central Park, he lost control of his bike and came crashing down on his arm.
U2 posted on their website: "It looks like we will have to do our Tonight Show residency another time – we're one man down. Bono has injured his arm in a cycling spill in Central Park and requires some surgery to repair it. We're sure he'll make a full recovery soon, so we'll be back! Much thanks to Jimmy Fallon and everyone at the show for their understanding."
The Irish lads were supposed to be going head to head with American rockers Metallica. The heavy metal group are also performing a week-long residency this week.
Starting tonight November 17th, the band will be playing on one of the the rival late night chat shows, 'The Late Late Show with Craig Ferguson'. Metallica said: "We're excited to celebrate Craig Ferguson's final season on CBS as he's asked us to join him for an entire week of performances."