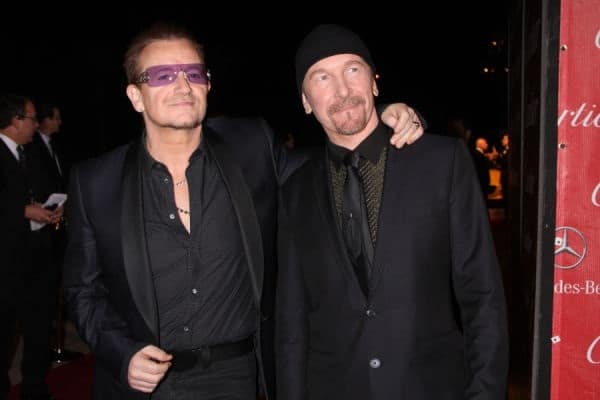 Would you like to listen to the article instead of reading it?
In the midst of their major Las Vegas residency, U2 have said they still have some "amazing new songs", which could be "ready soon".
The band made this revelation in a behind-the-scenes chat with Apple Music's Zane Lowe, as they took Lowe on a tour of the Sphere, their ground-breaking new venue.
This comes after U2 had released new track 'Atomic City', which they debuted on the opening night of their residency.
"a little dusting off"
Speaking about what's next for U2, Zane Lowe had a chat with band members Bono and The Edge.
"Well, I think new music, new tunes," The Edge said. "There's a lot that we have ready and some that need a little dusting off, but will be ready soon. I tell you, we've got some amazing new songs. Really exciting".
Lead singer Bono added, "Edge has about 100 in the bag. I have about 20… but [bassist] Adam [Clayton]'s got something to contribute".
Bono went on to tell Lowe that drummer Larry Mullen Jr who is absent from this residency, as he recuperates from surgery, "will be sitting there going through the bag going, 'Yeah, no, that's s****. That's s****. That's s****. Is there anything here that isn't s****?'".
According to Bono, U2 will eventually manage to "find 10" satisfactory tracks, adding, "that's all you need" for a new album.
"10. And that's your reason to exist", the singer stated. "If not, U2 should just f*** off. Go live on an island, or go away and be a nuisance somewhere in the world. But if we want to continue as a band, it's only about one thing. It's about the text, it's about the tunes, it's about the performance. It's about whether you believe us or not".
"Las Vegas Or Bust Baby"
Elsewhere, Bono was quick to praise The Edge, lauding the guitarist as an "extraordinary musical genius".
"And we have an extraordinary musical genius in our band. We will try, I will try, to put into words the music [The Edge is] making. I make it with him. But it's Las Vegas or bust, baby", Bono said.
He also claimed, "The fight is for our future. It's love versus luck. But that's what our band is built around. It's not just friendship. We overuse the word 'love' like The Beatles did. And you're either… it's like, 'Whoa, back off'. Because it's a lazy word to use unless it has meaning".
"And if it doesn't have meaning within the band, then it's not going to have meaning outside of the band. So this is the time when if people have lost their love, they should fuck off. Including me. You know what I mean? That's what it is, right?
"And if you're not falling in love with music… because music pays our bills. And if you don't love music, it's your time to f*** off".
It was at this point that the Edge added, "The thing we've not forgotten is what a privilege it is to be standing on this stage, playing our songs in front of this audience. We take that hugely importantly. We don't want to mess up. You don't want to waste that opportunity".