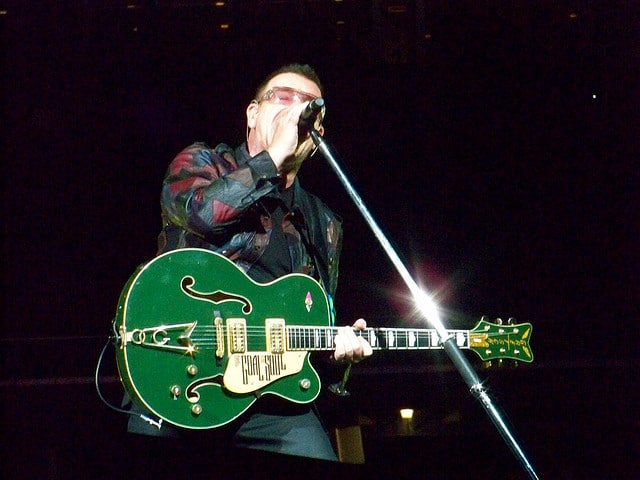 There aren't too many more anticipated things in Ireland than a new iPhone and especially a new U2 album.
Two of the most sought-after things in music and technology may be joining forces. Rumours are swirling that the group will somehow be involved with Apple's big announcement on Tuesday September 9th, where they are expected to reveal the iPhone 6.
According to 9 to 5 Mac, this could be anything from U2 performing at the event to the new album coming pre-loaded on the new phone.
A public denial has been released from the band's management, "They are not releasing their album on the iPhone, and they are not performing at the iPhone launch," but it was quickly taken down, and they have not said anything else on the matter.
Most of the speculation seems to steam from a recent video shoot U2 did in Dublin, on Samuel Beckett Bridge, just a stone's throw from Nova's headquarters. The shoot was conducted in secrecy with a white marquee tent erected to house the band from the torrents of rainfall. Dublin City Council was unable to confirm or deny rumours that it was U2 filming.
Music promoter Stephen Browne said the "focus of the 'video' on the bridge last week was a phone."
Apple and U2 have teamed up before. Ten years ago, 'Vertigo' was used in a commercial for the iPod, and Apple created a special edition iPod with the signatures of the four members etched on the back. Apple also supports Bono's RED charity, which fights against the global spread of AIDS.
Since last month, there have been whispers that U2′s long-delayed album will finally arrive this year, with a tour beginning in April 2015. A new track reportedly titled 'Song for Someone' was briefly leaked onto the Internet after it was recorded by a fan outside Bono's beach house in France.
We await the announcement from Apple tomorrow.