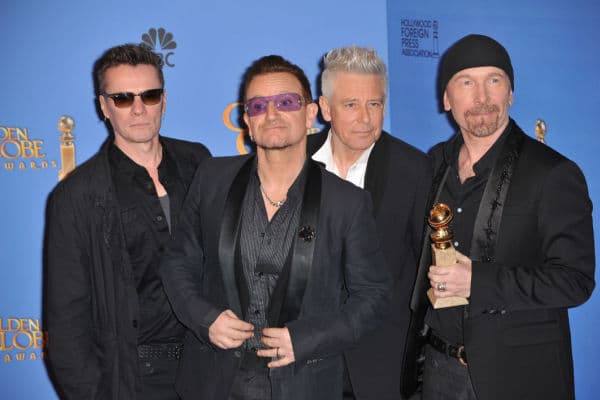 U2 recently shared another preview of their upcoming album 'Songs of Surrender'.
While it still retains the original track's melancholic tone, this new version of 'With or Without You' has a much more raw and minimalistic production, featuring a slow burning guitar line, to go with the emotive lead vocal from their frontman Bono.
Having been originally released in March 1987, 'With or Without You' soared to top spot in U2's native Ireland, as well as Canada and America. It also reached the top 5 in the UK, Netherlands, Finland, Belgium, Spain, and New Zealand.
Check it out here.
'Songs Of Surrender'
This compilation album contains 'reimagined and re-recorded' tracks from their back catalogue, which will arrive on St Patrick's Day.
The album has also been produced by U2's guitarist The Edge.
Previewing this album earlier this month, U2 released a reimagined version of the track 'Pride (In The Name of Love)'. Check that out below.
'Songs of Surrender' will see U2 taking a trip down memory as they reimagine other tracks like 'Invisble', 'Beautiful Day', 'Sunday Bloody Sunday', 'One', and others.
"The process of selecting which songs to revisit started with a series of demos. I looked at how a song would hang together if all but the bare essential elements were taken away. The other main aim was to find ways to bring intimacy into the songs, as most of them were originally written with live concert performance in mind", the Edge said of the album.
Elsewhere, U2 also revealed that they were in advanced talks to launch their own Elvis style Las Vegas residency for later this year.
It has been rumoured that the residency would take place at the MSG Sphere.
This Sphere is a 17,500 seater venue being built at the Venetian along the Vegas Strip, for music and entertainment. More on this report from Nova here.
This month also saw the band's frontman Bono admit that he is grateful that the Dublin rockers have not split up. More here.