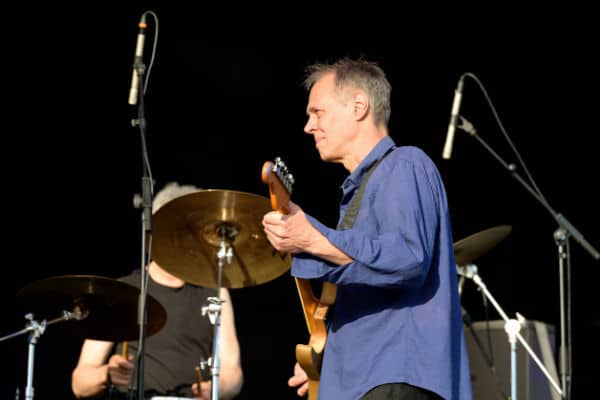 Tom Verlaine, renowned for his role as guitarist, singer and songwriter for New York band, Television, has died aged 73.
Having left boarding school in Delaware to flee to New York with collaborator Richard Hell, the pair formed the band Neon Boys, alongside drummer Billy Ficca.
After recruiting guitarist Richard Lloyd, the band later changed their name to Television, before releasing their debut album 'Marquee Moon' via Elektra in 1977.
After seeing their second album 'Adventure' arrive the following year, the album reached number 7 in the UK Album Charts. That same year also saw Television split up, prompting Verlaine to pursue a solo career.
His self titled solo album arrived in 1979 via Elektra, which featured in the top 15 NME albums of that year.
Twleve years and five solo releases later, Verlaine returned to Television, where he combined his band and solo committments together.
1992 saw Verlaine release solo album 'Warm and Cool', alongside a Television self titled album.
Despite that turning out to be Television's final studio album, they remained active until 2019 with several live tours.
"vision and imagination"
Verlaine's death was confirmed by Patti Smith's daughter Jesse Paris Smith, who revealed that the music icon died following a "brief illness".
"He died peacefully in New York City," she wrote, "surrounded by close friends. His vision and his imagination will be missed". 
She added, "I love you always and forever, and will always remember and hold close the touch of your hand – hands of a beautiful creator and of a love more warm, tender, delicate, and true that one can ever dream. There has never been another like you and there never will be…". 
Others to pay tribute also include R.E.M's Michael Stipe who wrote, "I've lost a hero. Bless you Tom Verlaine and thank you for the songs, the lyrics, the voice! And later the laughs, the inspiration, the stories, and the rigorous belief that music and art can alter and change matter, lives, experience. You introduced me to a world that flipped my life upside down. I am forever grateful". 
Other tributes also include Red Hot Chili Peppers' Flea, Patti Smith, actor Elijah Wood among others.
listened to Marquee Moon 1000 times. And I mean LISTENED, sitting still, lights down low taking it all in. awe and wonder every time. Will listen 1000 more. Tom Verlaine is one of the greatest rock musicians ever. He effected the way John and I play immeasurably. Fly on Tom.

— Flea (@flea333) January 29, 2023
Devastated by this news. Tom Verlaine was a true great. His role in our culture and straight up awesomeness on the electric guitar was completely legendary. Name 10 minutes of music as good as Marquee Moon. You can't. It's perfect. Rest in peace Tom x https://t.co/6HAwg5k9PS

— stuart braithwaite (@plasmatron) January 28, 2023
Aww man…rest well, Tom Verlaine pic.twitter.com/rxCcUNYtVi

— Elijah Wood (@elijahwood) January 28, 2023
Playing this one loud for Tom Verlaine

— Tim Burgess (@Tim_Burgess) January 28, 2023