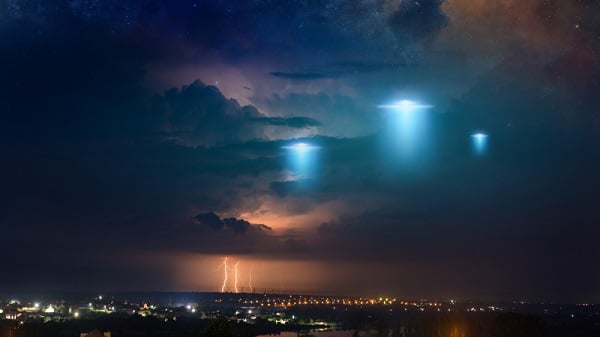 In 2020, police in Northern Ireland received six reports of potential UFO sightings, new figures reveal. The potential sightings were recorded by the Police Service of Northern Ireland (PSNI), with one man claiming he had been delivered to Bangor Marina by extra-terrestrials.
Five other reported sightings were made in 2020 across Lisburn, Bangor and Belfast. The figures seem to be rising when compared to last year, where four sightings were reported.
According to data acquired by the PA news agency using the Freedom of Information Act, the first report came on March 13th. On that particular call, reports of a half-hour sighting of a UFO "with many flashing lights making no noise" hovering in the skies above Dunmurray, on the outskirts of Lisburn.
Another sighting was reported six days later in Bangor, when officers were informed of a "flying object" in the skies, appearing to be solar panels.
There were further reports on April 3rd, when the PSNI received a report of a "UFO going down the Springfield Road." However, their logs show that there was no description made with this report.
On May 12th, one man contacted police claiming to have been delivered by extra-terrestrials to Bangor Marina by UFO.
Up until this point, regular reports were coming in. Although, there was a break in reports until the end of the summer.  However, on August 22nd, there was a fresh report of three UFOs flying over Belfast.
That number was beaten on September 26th when a caller said he had seen six UFOs flying in the sky over his house, in the Ballygomartin area of Belfast. This was to be the final report of the year. The PSNI said that no investigations were conducted in relation to any of these incidents.
Ireland is no stranger to UFO sightings as the Irish Aviation Authority examined reports of very bright lights and UFOs off the south-west coast.
In the US, the Department of Defense officially released three short videos showing UFOs. In a statement released in April, the Department of Defense revealed that the videos were taken by Navy pilots in 2004 and 2005.
Meanwhile, the sudden sighting of an obelisk-like metal structure in Utah had caused a tirade of extra-terrestrial conspiracy theories. Days after the structure disappeared, one remerged in Romania, California and San Antonio. No one yet knows what or who was behind this sudden emergence.