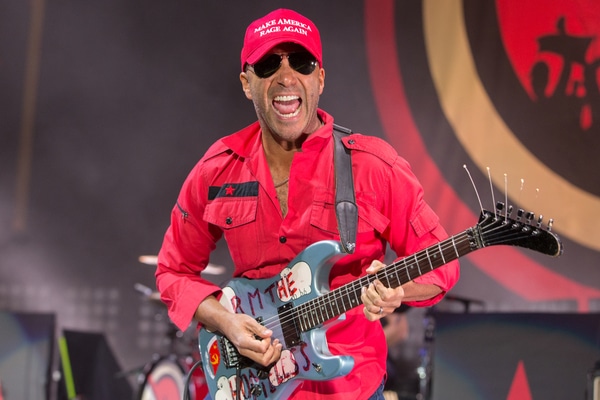 Rage Against The Machine track "Killing In The Name Of" has been voted as the UK's favourite festive Number One of all time.
The voting poll was launched in partnership with Night Eight Books. It was released to celebrate the release of the 70th Christmas chart battle and The Official Christmas No.1 Singles Book. 
This book is also a guide to 70 years of Christmas Number Ones. This book features a double paged spread to each festive number one.
Rage Against The Machine subsequently took the spoils with 51% of the vote, with 41,000 votes. They saw off Spice Girls "2 Become 1".
Rage Against The Machine Bagging Number One "crazy"
Rage Against The Machine bagged the Christmas Number One in 2009, after a campaign was set up by Jon and Tracy Morter to stop the X Factor from winning Christmas Number One for a fifth year in a row.
Following their success in 2009, Morter told NME, "F*** me it's crazy I can't believe it. It's mad, the BBC are even picking me up to do a TV interview tonight and the phone's been going none stop ever since. I can't take stock of it at the moment". 
Morter also added, "I'm humbled to think that a small idea in a kitchen in Essex a few years back has been officially crowned the 'Nation's Favourite Christmas Number 1″.
"It was the people's Number 1, using the people's song…a song that even the band themselves now claim is owned by all of us, not them, so I'm not surprised it has won considering these challenging times we're living in. Rage on!".
The Officials Chart also tweeted this earlier this week.
It's time for the final vote in the search for the UK's Favourite Christmas Number 1 – after two *extremely* close semis, our finalists have been chosen!@spicegirls & @RATM fans: buckle up, the poll will feature in the next tweet 🎁@nineeightbooks / https://t.co/msaFjGDh88 pic.twitter.com/vaYkvxjyAZ

— Official Charts (@officialcharts) December 15, 2021
Back in August, Rage Against The Machine frontman Tom Morello wrote a letter seeking help in evacuating young girls out of Afghanistan after they were taken over by the Taliban.
He was supporting his friend Lanny Cordola who runs a school for young girls in the country. It is a non-profit organisation called Miraculous Love Kids. It was set up in 2015. More on this here.