The only Victoria Cross won by an Irishman in the Australian forces during the first World War has come back to his home 80 years after his death.
Sergeant Martin O'Meara was credited with having saved the lives of over twenty-five wounded men by carrying them in from no man's land "under conditions that were indescribable".
The VC is the highest award for gallantry in the face of the enemy awarded to British and Commonwealth forces and The Australian Army Museum of Western Australia and the Australian Army History Unit has loaned Sgt O'Meara's medal to Ireland for 12 months to feature in an exhibition.
The loan of the Victoria Cross is of significant historical interest as it required the changing of Commonwealth Government legislation permitting a National Treasure to leave Australia.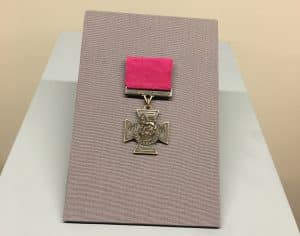 The VC medal is now on display at the National Museum of Ireland in Collins Barracks,  Dublin with Sgt O'Meara's British War Medal and Victory Medal till July 2020.
Sgt O'Meara was born in Co Tipperary in 1885 and moved to Australia in 1912 where he was a member of Western Australia's 16th Infantry Battalion.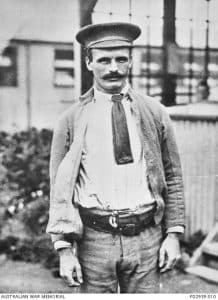 "Sergeant O'Meara is one of around 6,000 Irish-born Anzacs who served with the Australian Imperial Force during the First World War," said Australia's defence minister Linda Reynolds.
"He was awarded the Victoria Cross following his acts of bravery and courage at Pozieres in France on 9-12 August 1916. During four days at the height of battle, Sergeant O'Meara repeatedly went out and brought in wounded soldiers under intense artillery and machine-gun fire. His heroic actions undoubtedly saved many lives. He also volunteered to carry up ammunition and bombs through a heavy barrage to a portion of the trenches, which was being heavily shelled at the time."
The Australian Ambassador to Ireland, Richard Andrews, said the repatriation of the medal was in recognition of the close historical ties between Ireland and Australia.
"It has been a special honour for the Australian Embassy team in Dublin to have been involved in arranging for the loan of Martin O'Meara's Victoria Cross to Ireland.  This is the first time in over 60 years a Victoria Cross has left Australian shores on loan to an international museum. I could not be prouder that it has come to Ireland," Ambassador Andrews said.
"Martin's story is one of both heroism and tragedy. To date it has been largely unknown here in Ireland but it is a story that deserves to be told. It reminds us of the deep relationship Australia and Ireland share. Martin O'Meara's courage and his willingness to risk his life for his mates symbolise the huge contribution to modern Australia's culture and values made by incredible individuals who left Ireland for our shores. The tragedy of the later part of his life also reminds us of the horrors of war, and of the need to work continually to prevent such horrors ever occurring again. I'd encourage everyone over the next 12 months to visit the National Museum of Ireland, Collins Barracks, view Martin's medals and learn about his story".
The award was accompanied to Ireland by the Head of Museums at Australian Army Headquarters, Neil Dailey, and the Australian Army Museum of Western Australia's Manager, Major Henry Fijolek.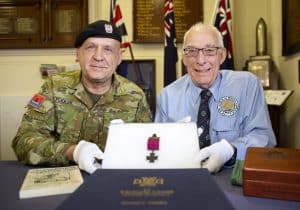 The loan of the VC to the National Museum of Ireland is likely be the second time the
medal has visited the shores of Ireland. After receiving his VC medal from King George
V, O'Meara later visited Ireland in October 1917. It is highly likely that he took his medal
with him when he visited family in Tipperary, some 102 years ago.
O'Meara's life is commemorated in both Australia and Ireland. In Ireland, bronze plaques
at Lorrha's Roman Catholic Church commemorate him and in June 2013 a memorial stone
was unveiled in Lorrha by the Lorrha Development Association.
Sgt O'Meara's great-niece Noreen O'Meara from Tunbridge Wells grew up with stories of O'Meara – her father Martin was named after him.
"We had his photograph on the mantlepiece," she told the Irish Times. "His story was quite well known in Australia, but not well known in Ireland. It's a life-long ambition for all of us to see the Victoria Cross to come back to Ireland. Sadly my father is not around to see this happen. It would have made him very happy."