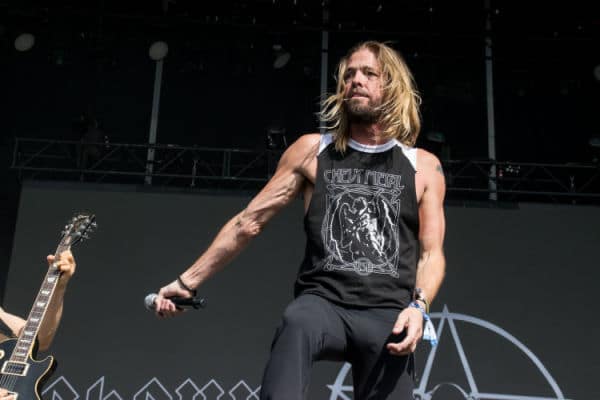 Would you like to listen to the article instead of reading it?
A group of 100 drummers shared a very special cover of Foo Fighters' track 'My Hero', paying tribute to the late Taylor Hawkins.
The cover which you can see below, pays tribute to the late Foo Fighters' drummer Taylor Hawkins, who passed away on 25 March last year.
Hawkins was found dead in a Colombian hotel room in Bogota last year. He was 50 years old.  The band were touring the continent at the time.
"an experience we'll never forget"
Marking the occasion, a Belgian rock band by the name of Black Box Revelation teamed up with 100 drummers to perform a cover of Foo Fighters' 1998 hit.
What is even more special is the fact that this performance took place at Antwerp's Sportpaleis, the last venue in the country that Hawkins performed with Foo Fighters.
"Taylor Hawkins was the best drummer of our times. Honouring him with this tribute was an experience we will never forget", Black Box Revelation said in a statement.
On of the drummers participating in this performance, Gino Kesteloot also added that it was "wonderful to honour our hero in this way".
"It's the first time I played together with 100 other drummers. It sounded great, I even got goosebumps all over my body! Wonderful to honour our hero this way", Kesteloot said.
Check it out for yourselves below.
Last month, Taylor Hawkins' son Shane's emotional live rendition of 'My Hero' was recognised at the annual Drumeo Awards.
Shane Hawkins who performed the track at his father's tribute concerts in LA and London last year, picked up the accolade for 'Performance of the Year' at the ceremony.
The awards cover 15 categories, with 75 drummers from 16 different countries also nominated.
Shane's exploits which were under difficult circumstances, also caught the eye of the former drummer for The Police, Stewart Copeland.
Reacting to his performance, Copeland felt that Shane is very much a chip off the old block. More on this here.