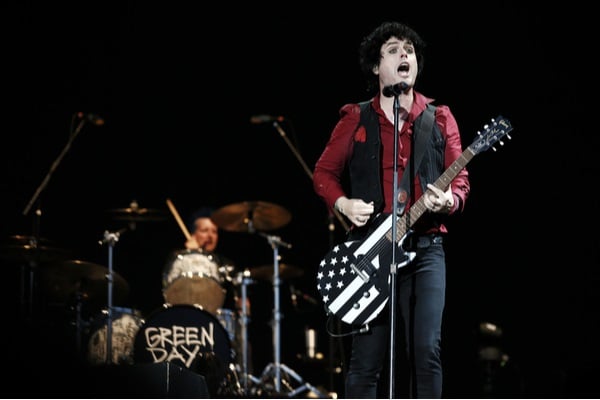 Would you like to listen to the article instead of reading it?
It is fair to say that is not every day you frequent a rock bar in town, watching and listening to a Green Day covers band perform on stage, when suddenly the actual Billie Joe Armstrong appears from nowehere to perform with the band.
Well for the drinkers of a London rock bar, that's exactly what happened as the Green Day frontman walked into the bar, and performed Green Day hit Basket Case with the band.
"Thank you legend" – Borderline Toxic Pay Tribute To Green Day Frontman
The video which you can check out below, saw covers band Borderline Toxic perform with Armstrong at North London's Slim Jim's Liquor Store on Upper Street.
Borderline Toxic shared their collaboration with Armstrong online, alongside the following caption.
"The moment your band gets joined on stage by your childhood idol to sing their own song with you… in your favourite dive bar!! 🥹 Billie Joe Armstrong… @greenday !! THANK YOU, YOU LEGEND!", the band wrote. "This was the first band to get me into rock when I was 11 years old and I'm honestly just so made up. brb crying/screaming/spewing". 
Check this video out for yourselves here.
Green Day themselves also shared the footage, "When you walk into a pub and the cover band starts playing your song".
Later this year, Green Day are also set to headline two shows at the emo/punk nostalgia fest 'When We Were Young', which take place on October 21 and 22.
Last year, Green Day also performed with a banner reading "F*** Ted Cruz" in the background.
This came after the Republican Senator Cruz was widely castigated over the tragic Elementary School shootings last year, and the firearm laws of the US.
See more on this from Nova here.