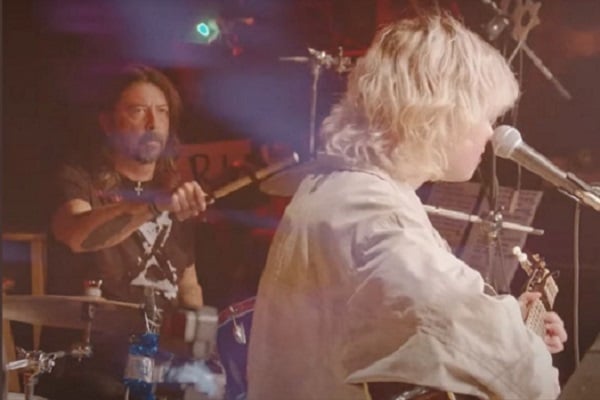 Dave Grohl joined forces with his daughter Violet for a live cover of the track Janis Ian, the latest entry from the 'Hannukah Sessions'.
These sessions which were originally set up by Dave Grohl and Foo Fighters bandmate Greg Kurstin in 2020, were recorded earlier this month.
This year's show saw Kurstin and Grohl perform nine tracks in front of a live audience at a secret show in LA.
Along with the live cover, Violet Grohl also performed 'At Seventeen', an age she reaches in the next few months herself. Check out this cover below.
Violet Grohl Pays Tribute to Taylor Hawkins
Earlier this year, the late Foo Fighters' drummer Taylor Hawkins was honoured with two very special live tribute shows in London and LA.
The second show which took place in at LA's Kia Forum, also saw Violet Grohl take to the stage, performing a moving live cover of Leonard Cohen's classic 'Hallelujah'.
This second live show also included performances from  Def Leppard's Rick Savage, Phil Collen and Joe Elliot, Sebastian Bach, Brad Wilk, Kim Thayil and Matt Cameron of Soundgarden, Jon Davidson, Taylor Momsen, Pink, Leann Rimes and Danny Carey.
Check out this live performance from Violet Grohl below.
Earlier this Summer, Dave also spoke about how the onus is on his daughter and her generation to "create the next revolution". 
"It's that generation. Give it five or 10 years, give it three or four years and you'll see how this mutation is happening".
"When we go out on stage, the thing I love about playing our big shows is that I can join everybody in a giant chorus, whether it's a song like 'My Hero' or 'Best of You,' 'Everlong,' 'Learn to Fly,' whatever it is", he added.
What I see is this mutation, this change, this growth and progression that her generation, they're the rock stars now", Grohl told MSNBC. "It's not old guys like me. It's not people like Kanye [West]". 
More on this report from Nova here.