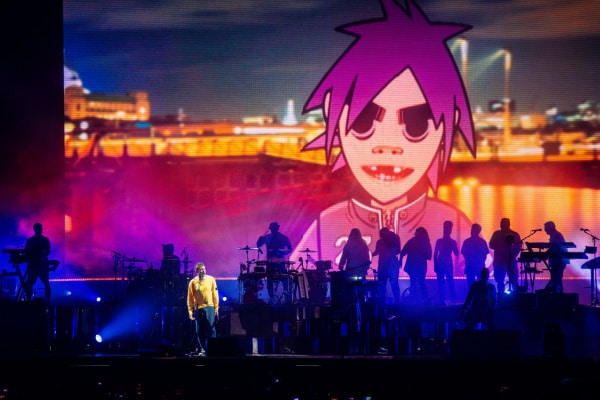 Celebrating their latest single 'Skinny Ape', Gorillaz performed two Augmented reality shows across New York's Time Square and London's Piccadilly Circus over the weekend.
Fans will be able to gain access to these shows by downloading a special app to view these special AR performances, merging real world and computer generated imagery together.
Directed by Gorillaz co-creator Jamie Hewlett, along with Emmy Award winning directero Fx Goby, these shows were also created by Nexus Studis. These studios also utilised Google's ARCore Geospatial API, using Google street view to build AR content in 86 different countres.
A press release has also added that these shows will allow fans to watch Gorillaz "play in real life as Murdoc, 2D, Noodle and Russel literally tower over them, playing in the midst of two of the world's most iconic skylines". 
"there's four of us"
Speaking ahead of these show, Gorrilaz star Murdoc had this to say.
"To all our followers, get ready for the biggest Times Square takeover since that other gorilla smashed the place up. Bigger in fact cos there's four of us. Thanks to the techies at Google, we've created the music video event of the century, so don your pink robes and come see Gorillaz like you've never seen us before. The future is nigh!", he stated.
You can check out fan-shot footage of these performance below.
GFANS 🦍🛐 🎇Times Square
via @nexusstories pic.twitter.com/a4zsZ4RTmu

— Gorillaz BR ✰ (@gorillaz_br) December 18, 2022
The @Google x @Gorillaz AR experience live in Time Square yesterday. So cool in person. Kudos to @elevenmgmt @nexusstories @OutfrontMediaUS @OceanOutdoorUK @Totemko + all teams involved. pic.twitter.com/LXpocSbfIr

— Michael Kauffman (@michaeljoel) December 18, 2022
Last November, Gorillaz celebrated the 20th anniversary of their self-titled debut album, with the release of a special reissue, including demos, B-sides and live recordings.
Among other items, the reissue featured G-Sides, and a previously unreleased vinyl of dub and reggae remix album, Laika Come Home.
The collection which arrived on December 8 last year, also included a dossier of "leaked documents, memos, faxes and some early Jamie Hewlett drawings, assumed lost in a fire".
More on this from Nova here.