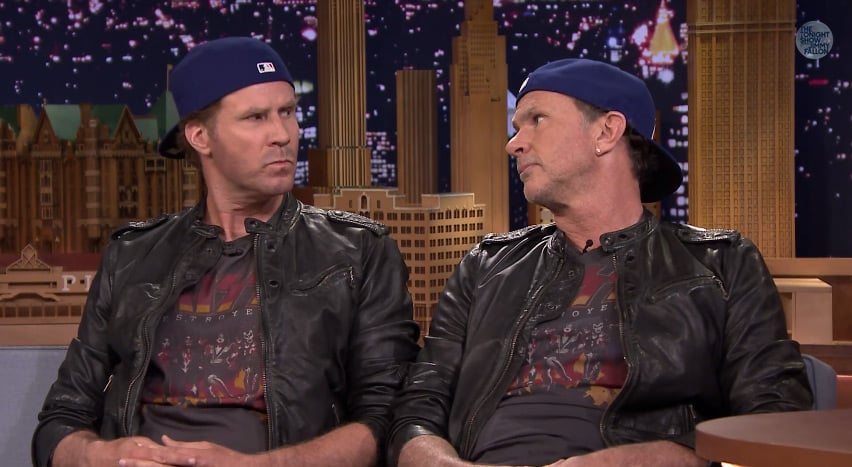 There have been many double takes over the years when people have seen a picture of actor Will Ferrell and Red Hot Chili Peppers' drummer Chad Smith.
Are they related? Do they know how similar their resemblance is? Many fans have pondered these questions over the years.
The pair famously took part in a 'drum-off' on Jimmy Fallon's chat show, the video has since been viewed over 25 million times. The drummer recently hosted a hilarious Twitter Q&A, which he used to take a few shots at Ferrell, labeling him a "pampered movie star."
The rivalry looks set to continue between the duo, they're planning a musical comedy tour this year.
Speaking to Rolling Stone, Smith said: "I can't really expound upon details, but we have been talking about doing something next year that will combine music and comedy ­– a show. It will benefit the charities that we're into."
He added, "Plus, I think I need to redeem myself from how I was robbed of the Golden Cowbell. I don't want to burst any bubbles, but he wasn't even playing the drums, people! Shenanigans! Call the cops, I've been robbed! Yeah, so, it's not over."
Smith even speculated that they might add a third member to their tour, Metallica's Lars Ulrich, creating a real life three stooges.
"We got such a kick out of saying we'd battle Lars, who obviously looks nothing like us — this small Danish man. We're like, 'Yeah, that guy really looks like us,'" he said. "All the Metallica fans were like, 'Lars will drum circles around you guys.' And I think Lars' response was really great. He took it and was really fun about it."
"I don't know. We'll figure it out. We're open to any and everything and anyone that wants to step forward," he added.
Check out Chad Smith vs Will Ferrell below.