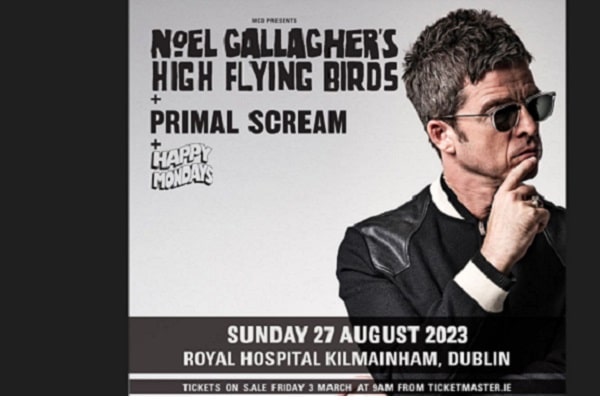 Noel Gallagher and his band High Flying Birds are coming to Royal Hospital Kilmainham, as part of an open air concert, and one lucky listener can win a pair of tickets for this gig here at Radio Nova!
All you have to do is tune into Morning Glory With PJ & Jim all this week to find out how.
Tickets do not offically go on sale until Friday 3 March, however, here at Nova you can bag yourself a pair before then!!
Gallagher Coming To Kilmainham
Noel Gallagher and his band will be taking to the stage on August 27. The show will also feature special guests Primal Scream and Happy Mondays.
The show is to also support the latest album released by Noel Gallagher's High Flying Birds, 'Council Skies'.
The album arrives on June 2, and has been described as the "most varied and accomplished solo record to date" from Gallagher.
"It's going back to the beginning. Daydreaming, looking up at the sky and wondering about what life could be … that's as true to me now as it was in the early '90s", Gallagher added on the track in a statement.
"When I was growing up in poverty and unemployment, music took me out of that. Top Of The Pops on TV transformed your Thursday night into this fantasy world, and that's what I think music should be. I want my music to be elevating and transforming in some way". 
Speaking of the Gallagher brothers, former Oasis singer Liam had his say on Matt Healy's call for the estranged pair to "grow up" and reform the band. Oasis split up in 2009, and the pair have been at loggerheads ever since.
"Grow up! Headline Glastonbury! Have a good time! Have a laugh!", Healy said. "Do me a favour: Get back together, stop messing around. That's my public service announcement for today". 
This was the Gallagher response.
"Matty Healy says you're just wasting your time and you should stop being like children… what do you think?", he said."It's our time to waste who made him the boss of time".