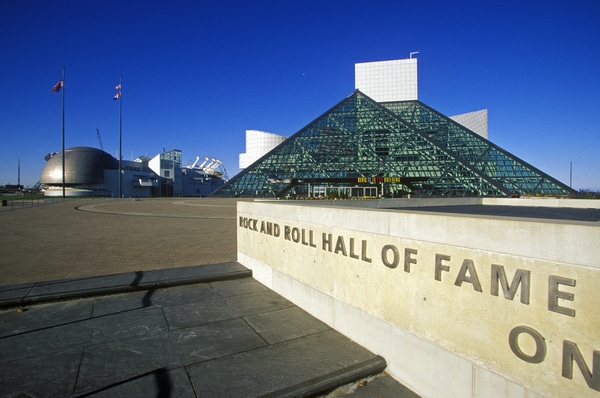 The Rock & Roll Hall of Fame has revealed its nominated acts for 2022.
17 acts have been selected for potential induction into the Hall of Fame at Cleveland, Ohio.
Those acts are Eminem, Kate Bush, Beck, Eurythmics, Duran Duran, Dolly Parton, Lionel Richie, Rage Against The Machine, A Tribe Called Quest, Carly Simon, Judas Priest, Fela Kuti, New York Dolls, Dionne Warwick, MC5, DEVO and Pat Benatar.
Five acts will be selected for the final round by over 1,000 artists, industry members and historians. Fans can also have their say by voting at the museum or online at vote.rockhall.com.
In order to qualify for a nomination, 25 years must have passed since the release of an act's first commercial recording. Eminem has landed a nomination in his first year of eligibility.
The other first-time nominees are Beck, Duran Duran, Lionel Richie, A Tribe Called Quest, Carly Simon and Dolly Parton.
MC5 receive their sixth nomination, with Rage Against the Machine picking up their fourth. Kate Bush, Judas Priest, New York Dolls, Eurythmics and Devo will all be hoping it's third time lucky. Having both been nominated last year, Dionne Warwick and Fela Kuti receive their second nominations. Pat Benatar was previously nominated in 2020.
The announcement of who has made the Rock & Roll Class of 2022 will be made in May with a ceremony at some point in the autumn. It has yet to be announced where that ceremony will be held.
"This year's ballot recognizes a diverse group of incredible artists, each who has had a profound impact on the sound of youth culture," said Rock and Roll Hall of Fame Foundation Chairman John Sykes. "Their music not only moved generations, but also influenced the sound of countless artists that followed."
Duran Duran's nomination is based on the classic line-up of vocalist Simon Le Bon, keyboardist Nick Rhodes, guitarist Andy Taylor, bassist John Taylor, drummer Roger Taylor and guitarist Warren Cuccurullo, who joined the band later in their career.
"Just to make it onto the nominations list is an honour that I never expected to experience," said Le Bon. "This distinction is due in large part to the fact that we have an army of fans around the world who have unwaveringly supported us for the past four decades."
In recent years the Hall of Fame has received criticism for its lack of recognition of Heavy Metal.
"It's an interesting one, because we do [celebrate metal]," said Hall of Fame CEO Greg Harris. "We celebrate all forms of rock'n'roll… We nominated Iron Maiden, Judas Priest have been nominated, we put Def Leppard in."
Ted Nugent recently criticised the Hall's loose definition of Rock & Roll.
"Why ABBA before Styx? Why Patti Smith before Triumph? Why Grandmaster Flash or JAY-Z at all?" he asked. "I mean, to think that they would qualify before the artists I just mentioned, and myself included, it's just dishonest and it's literally disrespectful to the Gods of this music — Chuck [Berry] and Bo [Diddley] and all the Gods that created this incredible soundtrack."