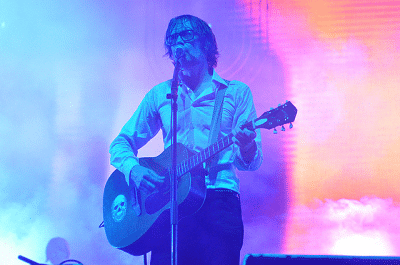 The Pulp karaoke contest took place in Brooklyn, New York and a nine-year-old boy walked away with the top prize.
Pulp's frontman Jarvis Cocker was joined by director Florian Habicht, to judge the competition.
The karaoke event coincided with the release of the new Pulp documentary 'Pulp: A Film About Life, Death and Supermarkets'. The movie was directed by Florian Habicht and is based on the band's final homecoming show in Sheffield.
Contestants had a limited list of Pulp tracks they could sing, that included 'Common People,' Disco 2000,' and 'Sorted For E's & Wizz.' Before the event started Cocker mused, "It's something that I'm slightly frightened about."
The Sheffield singer needn't have been scared of the winner, Graham Johnson, a nine-year-old boy, with shaggy blonde hair, who chose to sing the track 'This Is Hardcore' and mimicked Jarvis's trademark moves perfectly.
Watch him unleash his inner Jarvis below.
After the performance, the boy was asked why did you chose that song? Johnson replied: "I wanted to do a song that Pulp had done, Pulp songs are my favourite songs of all time," he said.
Cocker seemed fairly mystified by the whole experience saying: "In some ways i was a little disturbed by it, i think you really have a nice voice," he said. Then as the judges deliberated over the score, the crowd began chanting "10,10,10".
The score cards revealed a 9 from Florian Habicht and a 9.5 from Jarvis. The Pulp frontman concluded with, "I will not forget that ever."
Other participants in the karaoke show ranged from, a young woman, dressed up as an old lady, singing "Help the Aged," that walked up on stage with a cane, then discarded the cane and performed a striptease. The runner-up was a man in a red velvet suit named Shane, that fell off the stage while singing 'Babies.' After he recovered from his little tumble, he was consoled by Cocker. "I have fallen off the stage many times," Jarvis said. "The first concert Pulp ever did, the bass player fell off the stage. So you're keeping a tradition alive, you have the moves, now I can retire."