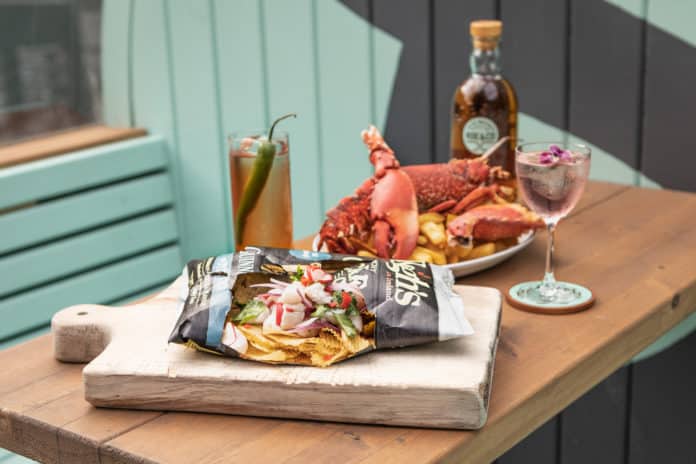 Summer has begun at Roe & Co Whiskey Distillery with a new line up of incredible local chefs plating up in limited pop ups as part of the new season of D-8TE.
Running until August 21st there will be four months of exciting cooking paired with specially curated whiskey cocktails, all focused on celebrating modern Irish food and international flavours, hosted outdoors in the Cocktail Garden at Roe & Co in D8.
Following Ethiopian pop up Gursha, Niall Sabongi's travelling "Salty Buoy" seafood truck has now parked up until June 12 with a very special seafood summer menu featuring some of their signature tastes like Irish oysters, Lambay Island crab and Grilled Lobster & chips .
Also on offer is Niall's latest creation; 'Keogh Loco', Keogh's new Guinness & Oyster crisps topped with South Coast Turbot Ceviche.
Yes you heard right! The freshest and most delicious fish has been combined by Niall with the new limited-edition crisps that are brimming with the smooth flavour combination of oysters and Guinness stout. And I can confirm it's delicious and different to anything you will ever taste!
D-8TE began in 2021 in the Garden at the Roe & Co Distillery when Dublin restaurants were unable to open fully. The distillery had a full seated cocktail garden & kitchen equipped airstream in the heart of Dublin 8 so an idea was formed to open the space up to local kitchens and restaurants.
From Michelin recommended kitchens to some of the city's favourite nomadic kitchens, this 2022 summer season of D-8TE is all about celebrating the diverse range of cooking & cuisines available in D8.
Niall's stay at Roe & Co will be followed by Big Fan, AA Caribbean, La Cocina Cuevas, and finally Vietnom, over the space of four months.
You can click here to book a table at any of the amazing food vendors at Roe & Co Distillery's Garden for D-8TE.
Opening Hours:
3PM – 9PM THURSDAY & FRIDAY,
1PM – 9PM SATURDAY
1PM – 7PM SUNDAY (Sunday timings may vary per vendor, please check Open Table for availability)
And grab a bag of Guinness and Oyster crisps exclusively at the Guinness Storehouse, Guinness Open Gate Brewery, Guinness pop-ups and on Keogh's online farm shop at shop.keoghs.ie.
Enjoy Guinness and Roe & Co sensibly. Visit www.drinkaware.ie