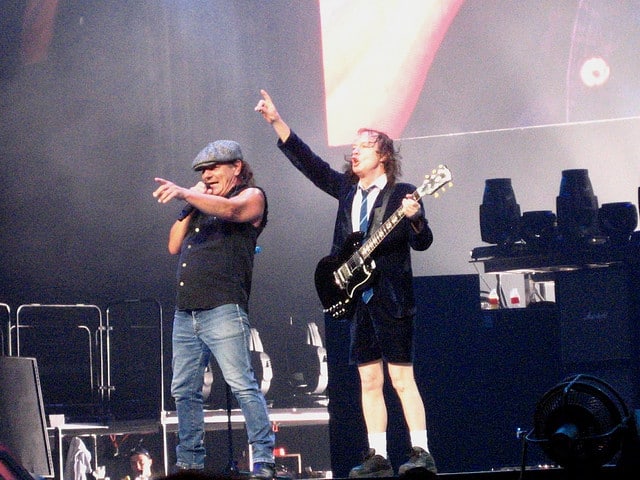 If you're not one of the bands rumoured to be headlining Glastonbury 2015, you're definitely in the minority, Australian rockers AC/DC are the latest act to speak about playing the festival.
The band says that they are open to the idea of doing Glasto 2015 and will perform on the pyramid stage if they're asked.
Speaking to BBC 6 Music's Steve Lamacq and Shaun Keaveny yesterday, the Aussie lads acted coy when discussing the Worthy Farm event.
Lamacq asked: "Any chance of seeing you at Glastonbury Festival one year?"
Singer Brian Johnson replied: "I don't know if there's rock and roll there, is there? I don't know, please don't ask me, I'm really not up on it. I thought it was wellies and corporate, I don't know!"
When the DJs mentioned Metallica's headline set last year, AC/DC's interest seemed to grow stronger. Angus Young said. "If they ask I'll say he sent us, Shaun [Keaveny] sent us."
Foo Fighters, The Libertines, Muse, Oasis, David Bowie and U2 are all in the running to top the bill at Glastonbury 2015.
Yesterday, It was announced that soul singer Lionel Richie will be performing on the sought after Sunday afternoon slot.
The singer will be playing on the last day of the festival, in the same slot as Dolly Parton did, Dolly drew massive crowds to her show, and was universally crowned by critics and fans as one of the best acts of 2014.
Other iconic musicians who have played the coveted afternoon slot include Leonard Cohen, Kenny Rogers, Paul Simon and Brian Wilson.