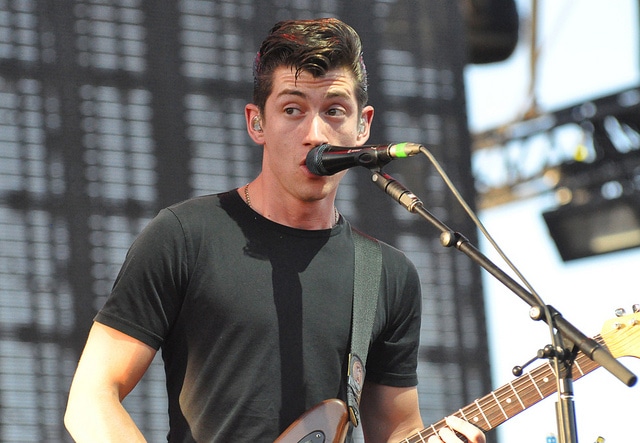 Arctic Monkeys' frontman Alex Turner joins the Los Angeles rockers Mini Mansions in their latest NSFW music video.
Mini Mansions consists of Zach Dawes, Tyler Parkford and Queens of the Stone Age bassist Michael Shuman. They're a mix of the psychedelic aspects of the Beatles and singer-songwriter Elliot Smith.
The band formed in 2009, after Queeens of the Stone Age completed their album Era Vulgaris. The three-piece put out a nine track EP in 2009, released their self-titled debut in 2010 and last year shared their new single 'Death Is A Girl'.
Last week, the L.A. group released their second album titled The Great Pretenders. Turner features on the new single 'Vertigo' and in the music video, along with some topless women.
In an interview with Pitchfork, Shuman chatted about the video for 'Vertigo': "The night before the shoot we played this strange private party for Saint Laurent with Bleached and Sky Ferreira, where we each played 15 minute sets. So there was plenty of time for debauchery afterward. Us and Alex managed to stumble onto set for the shoot at 9am with a half dozen naked ladies waiting to partake in the shoot. I'd say it was a pretty ideal setup for the making of this video."
Watch the video for 'Vertigo' below (over 18's only).
The bass player told Gigwise about working with Alex Turner. Shuman said: "We thought about a couple of different things, and we were in the studio looking for some kind of different character that hadn't yet been touched on by Tyler or my voice and we actually heard some kind of British-type thuggish kind of voice in the track, on that second verse."
"I always thought it as some kind of character out of a guy Ritchie movie, that's how I always saw that voice coming in. It's a very West Coast hip-hop-influenced song, so we wanted to give it that sense of different dudes coming in and giving it that different verse. Alex has more of like a sexy, swagger that what we were initially going for, which turned out better than anything we could have imagined, really."