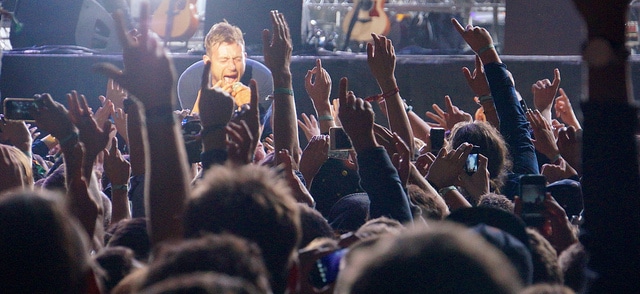 The Glastonbury festival is fast approaching and Blur have been one of the bands that are rumoured to be headlining.
The two acts revealed as headliners so far are, American rockers Foo Fighters and rapper Kanye West.
Unfortunately, it looks like the Brtipop lads will not be the final band announced for Glasto this summer.
Speaking on English radio station XFM, the band's drummer Dave Roundtree confirmed Blur weren't going to take the last remaining headline spot and chatted about the lack of groups that can headline an event like Glasto.
Roundtree said: "I think there is a problem in that there aren't that many bands who can headline big festivals at the moment. The music industry's missing a middle roster, a middle section of artists who are big at the moment but have enough back catalogue to headline a big festival."
Commenting on Kanye West headlining the Pyramid Stage, the drummer said he admired co-organiser Emily Eavis for thinking outside the box and trying something that's "a bit left-field and "unexpected".
An online petition on Change.org titled, 'Cancel Kanye West's headline slot and get a rock band', has been signed by 127,700 people. The petition was started last week and has a target of 150,000 signatures.
The man who started the page, Neil Lonsdale writes: "Kanye West is an insult to music fans all over the world. We spend hundreds of pounds to attend glasto, and by doing so, expect a certain level of entertainment.
"Kanye has been very outspoken on his views on music….he should listen to his own advice and pass his headline slot on to someone deserving! Lets prevent this musical injustice now!"
Blur recently announced a new album called the The Magic Whip, their first in twelve years, and the news that they'll be playing gigs this summer.
Yesterday, Blur released another preview track called 'Lonesome Street' from their upcoming album.
The first song Blur released was the very catchy 'Go Out', then last week they put out the song 'There Are Too Many Of Us'. The video was shot on a smartphone, showing the four members cramped together in a small room.
The Magic Whip was recorded in Hong Kong and features twelve new tracks, it's expected to be released in Ireland on April 24th 2015.