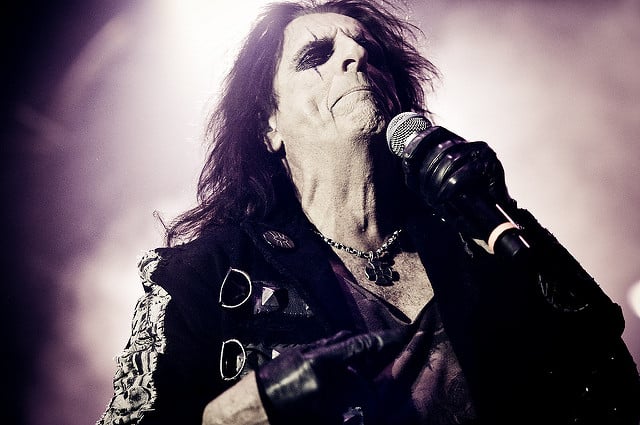 Nova's very own Alice Cooper is coming to Dublin this year.  He is set to play at Dublin's Olympia Theatre on Wednesday 8th November, 2017.
Cooper is Known as the architect of shock-rock, rattling the cages and undermining the authority of generations of guardians of the status quo.
To this day, he still causing a fuss as seen in the with the case of the woman in Minnesota.
After hearing that Alice Cooper was set to perform in the amphitheatre near her house, the elderly woman appeared before her local council to protest the concert. She wants restrictions on the type of concerts held at the Vetter Stone Amphitheatre because she and other residents are "virtually tortured almost every single weekend."
Apparently, there was all sorts of noise coming out of the venue when Nelly performed. The noise level supposedly reached 110 decibels at her home.
For his part, Cooper has responded to the woman's claims on his Facebook page. He conceded that noise of that level would be distressing to anyone "Now, noise of that magnitude would annoy me too"
However he was also quick to point out that considering her distance from the theatre that it was unlikely the sound actually reached such heights
"That doesn't sound like an accurate number unless the audience at Nelly's show had their spleens ruptured by the loudest show on record… 110db at her house sounds like a stretch unless she happened to meter the concert sound while 1,000 cats were meowing in her home at exactly the same time"
Keep being you Cooper.
Hopefully the people who live near the Olympia don't make any complaints like this, I don't we can get handle any more trauma of cancelled shows after the Garthgate of 2014.
Tickets are from €54.50 including booking fee and restoration levy. Tickets go on sale this Friday 10th March at 9.00am From Ticketmaster.
You can listen to Alice Cooper here on Nova on Saturdays from 9pm.
Photo Cred: Vesa