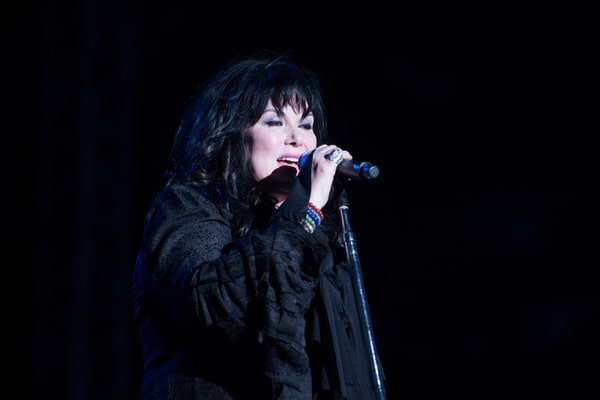 Heart singer Ann Wilson has said that the band have a "bunch of stuff planned" for 2023.
In a new interview, Wilson has revealed that these plans should get underway, once she releases her upcoming solo album 'Fierce Bliss'. The album will arrive on April 29.
The singer has already released her single 'Greed' which also features on this upcoming album. Check it out here.
Single and music video for GREED out now!https://t.co/uFbRXHqEN3
Taken from the new album FIERCE BLISS, out APRIL 29 pre-order now.
#annwilson #greed #fiercebliss

— Ann Wilson (@AnnWilson) February 8, 2022
"Oh I think so"
Speaking to Liz Barnes on "My Planet Rocks", Ann Wilson has insisted that the band certainly have plans to mark their 50th anniversary in 2023.
"Oh, I think so, yeah", Wilson said when asked if Heart had plans to mark the occasion.
"Because next year's the 50-year [anniversary] of when we actually got together and got going. Nancy [Wilson, Ann's sister and HEART guitarist] didn't join until '75, but the band got going in '73. So, yeah, we have a bunch of stuff planned for next year. So I can definitely see HEART doing something".
Another Wilson, Nancy had explained why the band had been largely inactive over the last three years.
"HEART had a big offer on the table last year for a bigger tour, but Ann wasn't interested in going out with my lineup of guys that we were out with before", Nancy said. "She has a new lineup of guys that she wanted me to join up with. And I sort of [thought] I don't really know them and don't have loyalty yet for anybody like that".
Heart did embark on a tour of North America, having reunited following a hostile split with the band which left the Wilson sisters estranged.
Ann and Nancy had fallen out following Heart's 2016 tour when Ann's husband Dean Welter was arrested for assaulting Nancy's twin sons in a backstage altercation. The twins were aged 16 at the time, and Welter subsequently pleaded guilty to two lesser offences to avoid being sent to prison.
Nancy's upcoming album will be a follow up to her debut solo record "You And Me" which arrived last May.