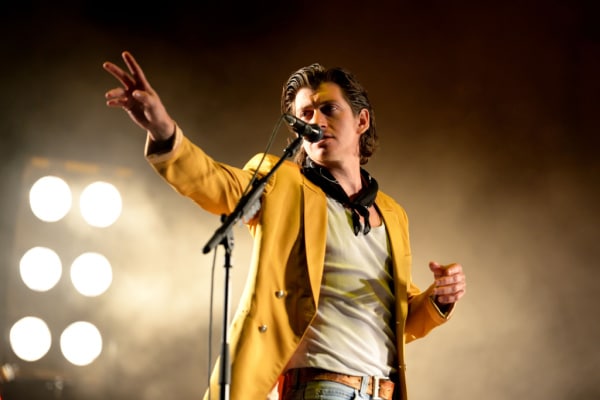 During last night's gig at Zurich, Arctic Monkeys debuted their brand new track 'I Ain't Quite Where I Think I Am'. 
The track is a perky, retro-sounding first taster from the band's much anticipated seventh studio album.
You can see footage of the band performing this track below.
Further footage of the band performing their brand new track was shared by fans on social media. Check this out here.
https://twitter.com/ArcticMonkeysJP/status/1562175783992315907?ref_src=twsrc%5Etfw%7Ctwcamp%5Etweetembed%7Ctwterm%5E1562175783992315907%7Ctwgr%5E89dd604370c7c76c38419daed83e2c328e6989f9%7Ctwcon%5Es1_&ref_url=https%3A%2F%2Fwww.nme.com%2Fnews%2Fmusic%2Fwatch-arctic-monkeys-debut-a-new-song-i-aint-quite-where-i-think-i-am-live-at-zurich-gig-3296214
Arctic Monkeys returned to the performing stage for the first time in three years earlier this month, with a string of live shows.
Having performed two shows at the Zorlu Center PSM in Istanbul, the band have also taken to the stage at Burgas, Pula and Prague across this month.
"It's lovely to see you all", frontman Alex Turner told the Istanbul crowd.
Speaking in a recent interview, Alex Turner also revealed that he keeps fit thanks to running and Muay Thai.
"I run a little and I practise Muay Thai", Turner said. "I discovered this discipline several years ago, when I was in a nightclub in New York. I met a security guard from the North of England and he encouraged me to train with him". 
"I take great pleasure in it", Turner continued. "It's good for the body and the mind, during the sessions you don't think of anything else. I will never be Mick Jagger, but we are still working on it". 
He did insist that you will not see him in a ring anytime soon.
"I will never reach the level to one day fight in a cage like a UFC fighter", he stated. "I have not excelled in any of the sports I've taken up". 
Arctic Monkeys led by Alex Turner, are also preparing to hit the stage at the Reading and Leeds Festival this weekend.