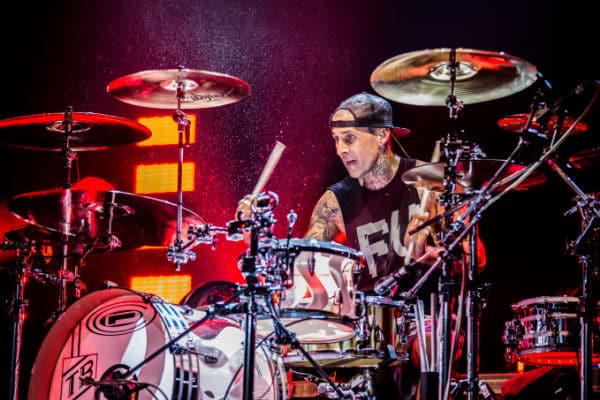 Blink-182 have been forced to postpone their Mexican and South American tour dates to next year.
The band confirmed this news, after drummer Travis Barker sustained a finger injury last month. Barker suffered dislocated and torn ligaments to his finger during rehearsals, before hurting it again two weeks later.
This tour was to see Blink-182 reuniting for the first time in 10 years, Along with their Mexican and North American tours, the band also confirmed dates for shows in the UK and Europe.
They also announced plans to hit New Zealand and Austrailia. More on this from Nova here.
"So sorry"
However, this news was confirmed by Blink-182 singer Tom DeLonge, who gave fans an update via Instagram.
"I'm so sorry to everyone in South America, that we couldn't be down there", DeLonge said. "This is something that we've been aiming to do for so long, and we worked so hard, and we just kind of had one of those freak accidents that nobody saw coming".
"Travis needs to go in and have surgery on his finger and we have to get that well, we have to get that strong before we can do anything else".
"This is just so sad", continued DeLonge. "These are the biggest shows we've ever played, these are some of the most important places in the world of our band. This is like the pinnacle of our career, coming down and playing for you guys so I really want you all to know that we are devastated".
"I know it seems like you've waited so long – which you have. And we've waited too. This is just devastating on so many levels. But we're gonna get Travis better, we're gonna come down – the three of us, together – and we're gonna rock, and we're gonna have an incredible time with you guys", the Blink-182 singer added.
"But I really want you to know, from my heart to yours, how important you guys are to us, and this is not something that we could have even have saw coming. This is just devastating. But we love you, blink-182 loves you. We will see you soon".