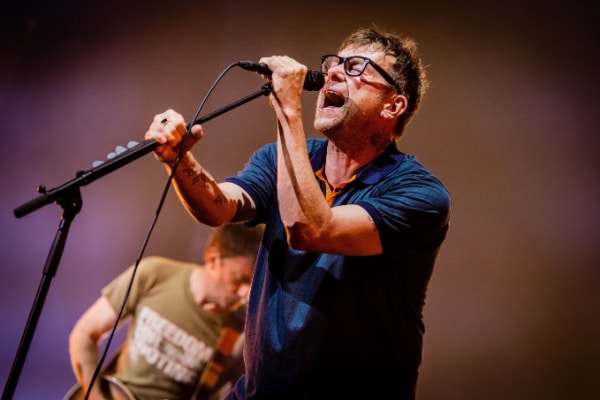 Would you like to listen to the article instead of reading it?
Damon Albarn has hailed Arctic Monkeys as "the last great guitar band", while claiming that guitar music has gone "sterile".
While insisting that he remains optimistic about the genre's future, Albarn claimed that guitar music is enduring a sticky patch at present.
The Blur frontman made these comments in an interview with the Broken Records podcast.
Albarn Unsure If He Has Seen "anything as good as that since"
Praising Arctic Monkeys, Albarn said, "I feel like there's a bit more excitement about guitar music again, that can't be a bad thing because it got so sterile. For me, the last great guitar band would have been Arctic Monkeys and I don't really know if there's anything as good as that since".
But he did state that he is hopeful about the genre's future.
"But now there are bands with a huge amount of potential. It's really dismantled itself guitar music and put itself back together again in a different form. You've got some fantastic new mutations of the genius of it", Albarn insisted.
Elsewhere, Damon Albarn also shared a list of bands who he feels are destined for greatness.
"I really like the band Wu-Lu, they seem to be really cool. There's one I picked up on somewhere in the American countryside but I can't remember his name, that's narrowing it down isn't it", he revealed.
"Then you've got bands like Yard Act who seem to be getting better and better. Obviously they are not new, but I still see them as emerging are bands like Sleaford Mods, brilliant. There's lots of great language being used again, not this generic rock shit – I hate that, I like poets and guitars".
Arctic Monkeys recently rocked the stage at Glastonbury after frontman Alex Turner returned to full health.
Earlier this Summer, Gorillaz creator Damon Albarn had stated that he would "put money" on an Oasis reunion.
Speaking of Blur, the band were forced to cancel a recent show at the French Beauregard Festival, after drummer Dave Rowntree suffered a knee injury. More on that here.