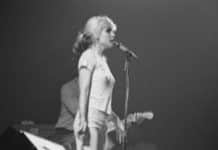 Blondie have shared their recent collaboration with old friend, Johnny Marr – 'My Monster'. The release is hot on the tail of the New York legends' recently shared comeback single, 'Fun'. The second track to be unveiled from their forthcoming 11th album, Pollinator was penned by Marr.
During a career spanning four decades, Blondie delivered a lifetime of smash hits including Heart of Glass, Dreaming, Tide Is High, Maria, Sunday Girl, Hanging on the Telephone, Rapture, One Way or Another, Call Me.
Speaking of the new collaborations on their soon to be released album Pollinator, Blondie front woman Debbie Harry said: "Their material is part of us and we are part of them. It's a celebration of recycling!"
Have a listen to new track 'My Monster' here.
Former Smiths guitarist Johnny Marr is not the only artist to collaborate with Blondie on their new album; Nick Valensi of The Strokes, Sia and Charli XCX are among the musician/writers who have joined the icons on, Pollinator, their first album since 2014.
The album is set to drop in May and was produced by John Congleton (Depeche Mode, St. Vincent). It was the last record to be worked on at the legendary recording studio, The Magic Shop, where David Bowie's final album, Black star was completed.
Blondie have been confirmed as support for Phil Collins Saturday June 25th at the Aviva. It has also been recently announced that they will be joined as special guests by Genesis star, Mike Rutherford, with his super group Mike & The Mechanics .
Picture Credit: Jean-Luc Ourlin