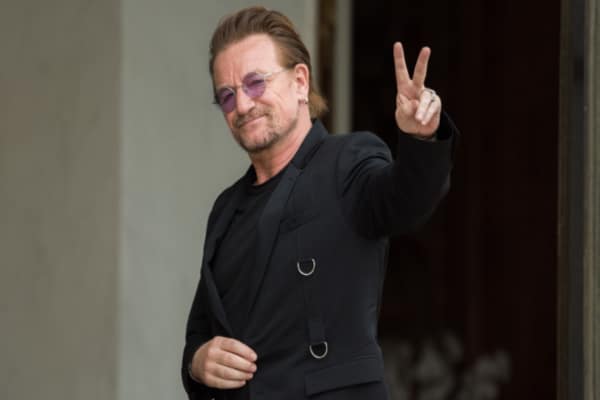 During a recent chat with poet Paul Muldoon, Bono spoke about his childhood, father, as well as his childhood.
The pair sat in Finnegan's Pub in Dalkey, where the U2 singer also read out an extract from his upcoming book, 'Surrender' which will arrive in November.
Bono first announced details of his upcoming memoir back in May. The book will also arrive on November 1 via via publishing house Alfred A. Knopf (and in audiobook form via Penguin Random House). More info on this story here.
"You're very professional"
In a very wide ranging and spiritual discussion, Bono spoke about the wonderful childhood experiences that he had, including holiday visits to Rush and chess lessons from his father.
This discussion took place as part of the Dalkey Book Festival.
Speaking from his upcoming memoir, Bono referred to a very special anecdote involving his late father, Bob Hewson.
Bono whose real name is Paul Hewson, was perfoming with U2 as part of their Unforgettable Fire tour in 1985.
The band were rocking on stage at Texas, when frontman Bono announced to the crowd that his father was in attendance, which led to a sesimic applause from the fans.
Bono's father made his way into the dressing room following the gig, where he reached out to his son, who thought that he was about to receive a compliment from his father.
"You're very professional", his father said.
Bono was very close to his father. The pair would often meet in Finnegan's pub on Sundays.
However, there were some occasional low moments.
Finnegan's was also the location where Bob Hewson informed his son that he was diagnosed with terminal cancer.
The singer said that the news was like having "huge boulders" falling on top of him.
Bono also revealed that he had just returned from a biopsy himself, which he described as a "sobering experience". It led to him considering his own mortality and that of the people close to him.
Bono also spoke about his wedding day and marrying his wife Ali, who was also in the audience at this meeting at Finnegan's Pub.
The couple went on to have four children, including son Elijah who is also the frontman of Irish band Inhaler. The band had recently hinted that new music is on the way. 
It's #Bono's birthday & the news is out. He's written a memoir. 'SURRENDER: 40 Songs, One Story'
Coming 1 Nov. He reads from the chapter #OutOfControl about starting to write U2's 1st single on 10 May 1978, his 18th birthday, 44 yrs ago. https://t.co/b95HrfaFcC #SurrenderMemoir pic.twitter.com/xOcUmmxs3j

— U2 (@U2) May 10, 2022